Euro pornstars are hot, there's no doubting it. There's something about them that make us go crazy, the best way we can find to explain it is by saying they are sharp, by that we mean they look like they could make you cum harder than you ever have before and there's nothing you could do about it – they would be in charge. Since we've published our favourite English/British pornstars previously we decided to not include any pornstars from the UK, even though they are technically European.
SEE ALSO: The Hottest British Pornstars
Silvia Saint
This beautiful Czech blonde has been in the porn industry for as long as we can remember, she's been in over a whopping 300 movies and has seen a lot of love both online and offline (before the internet had tons of porn) and for good reason. She is without a doubt one of the hottest and high profile pornstars from Czech Republic ever.
Jana Cova
There are a lot of hot girls from Czech, hence the amount of them found in this list, but Jana deserves to be here just as much as any of them. She has a lovely body, a great pair of tits and that accent that makes european girls even more attractive. Our only issue with Jana is that she only performs in lesbian scenes…
Jasmine Rouge
Jasmine, the hot 30 year old blonde from Romania was a contender for our hottest blonde pornstar list, unfortunately she didn't make the cut – not because of her looks but because other girls are much more active and are just as hot. Jasmine has provided euro lovers with some of the hottest scenes available, especially her anal scenes which are awesome – our only gripe is that she only does anal with her husband, which gets a little boring.
Anjelica AKA Krystal Boyd
Anjelica is one of the hottest, petite pornstars that has entered the porn scene in recent years. There's something about her that make us weak at the knees, which is unusual because we usually prefer busty girls. It must be her face, her innocent looks and tight ass, plus she's Russian and as we all know Russian girls have what it takes to make a man happy.
Aletta Ocean
Aletta featured on our 'pornstars with the best fake tits' list a while back, and here she is again, she's currently dominating the tubes and is increasing in popularity by the day. This Hungarian dark haired beauty has all the makings of a pornstar and she never disappoints.
Rita Faltoyano
A list of the hottest European pornstars wouldn't be worth reading if Rita didn't make an appearance. She's been in porn since before we can remember, she has a body of a goddess and the looks of a euro babe which we all know and love.
Sandra Romain
Sandra is a porn veteran, appearing in almost 700 adult scenes and with 7 awards under her belt she most definitely knows how to please a man. Originally from Romania, now living in the US and performing for some of the top porn networks Sandra still has a lot to give to the porn industry – so does her sister Alice Romain who is also a pornstar, however we feel Sandra was blessed with the better looks.
Sophie Sweet
Sophie is probably one of the most well-known blonde euro pornstars, she has everything you could want in a pornstar, a great figure, tits, dirty mind and a face you can't take your eyes off. Most of her scenes are girl on girl, however she does also perform with a male and has even pleasured us men with double penetration and anal scenes – you dirty girl Sophie.
Brigitta Bulgari
Brigitta is a stunning Hungarian blonde, she's only appeared in around 30 scenes but don't let that put you off – she really is seriously hot. Some of you may know her as the lady who streaked during an italian football match, we know her as the euorpean blonde that we wished made more porn. If you haven't seen any of her scenes yet, we urge you to check them out – you won't be dissapointed.
Black Angelika
Black Angelika has been hugely successul in the porn scene, with over 140 scenes under her belt and two awards won (including best euro actress & best euro scarlet), and when you see some of her scenes it's not hard to figure out why she has been so popular. She's got the full package, and she's only 27 so hopefully there's more of her to come.
Anna Polina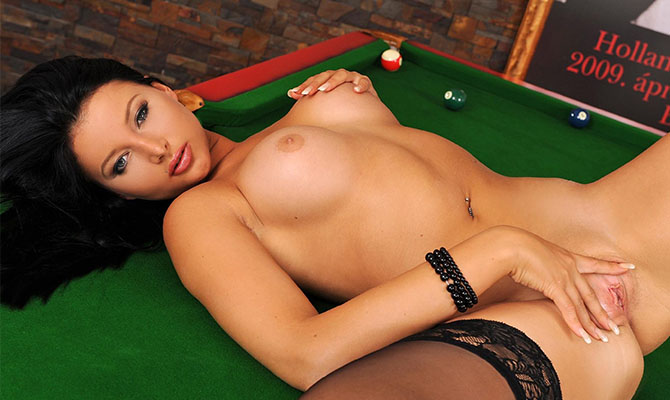 Anna is a lovely Russian babe, with an amazing figure and a great pair of fake tits. She hasn't been too active in the porn scene (we could only find a handful of videos) but she is still active so fingers crossed we get to see a lot more of her yet.
[adinserter name="Block 1″]