We were apprehensive about writing a hottest shemale pornstars list for obvious reasons, no we're not homophobic we've just always featured female pornstars and yes, we understand they are females too and we don't want to get into the whole gender debate here but let us just say this. For all of the doubters or haters out there, the girls on this list are hotter than a large majority of the 'female' pornstars and we don't discriminate, if they're hot they're hot we don't care which gender they were born and even if transexual porn isn't your thing and you don't agree with the whole shemale porn era or transexuals in general there's no denying these girls are sexy.
SEE ALSO: Blonde Pornstars
Aubrey Kate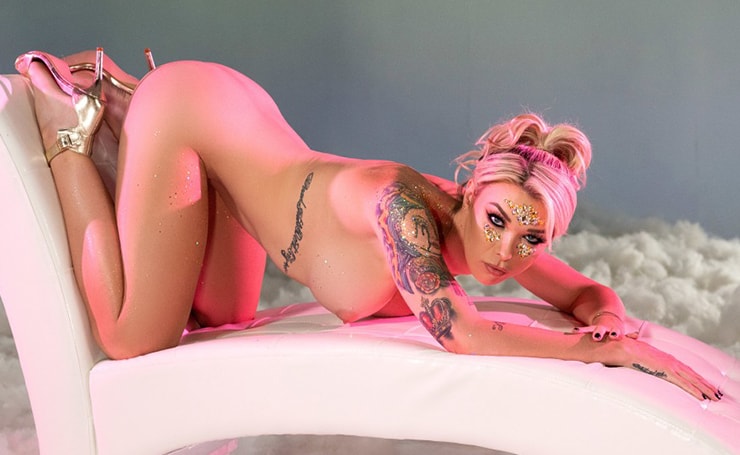 Aubrey has probably been regarded as one of the hottest transexual pornstars ever to have performed in porn and we would most certainly have to agree with that. Her appearance has changed over the years and now we have the ultimate version of her, tanned skin, perfect tits, a beautiful figure and a pretty face, she's incredible. And just for the record, even though her appearance has changed even in her earlier scenes she looked fire.
Emma Rose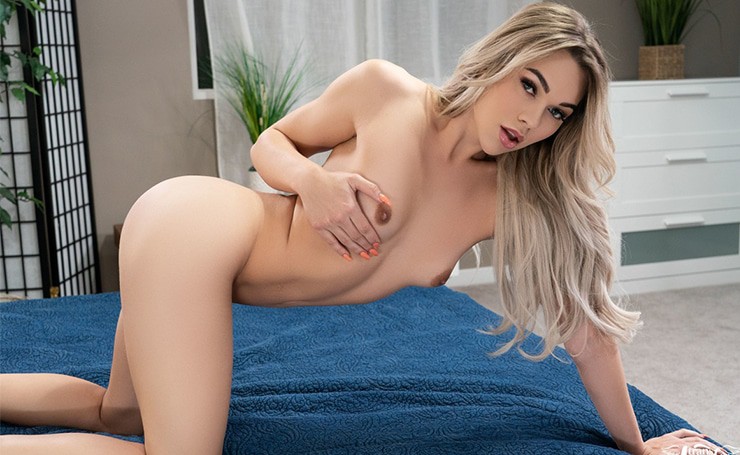 This Emma is new on the block, but damn is she hot. She doesn't have the biggest tits (luckily we love pornstars with small tits) but she does have a tight body and a smoking hot and very convincing face. So far, she hasn't appeared in too many scenes but the majority of the ones she has been featured in can be found on TransAngels and we hope to see a lot more from her in the months and years to come.
Domino Presley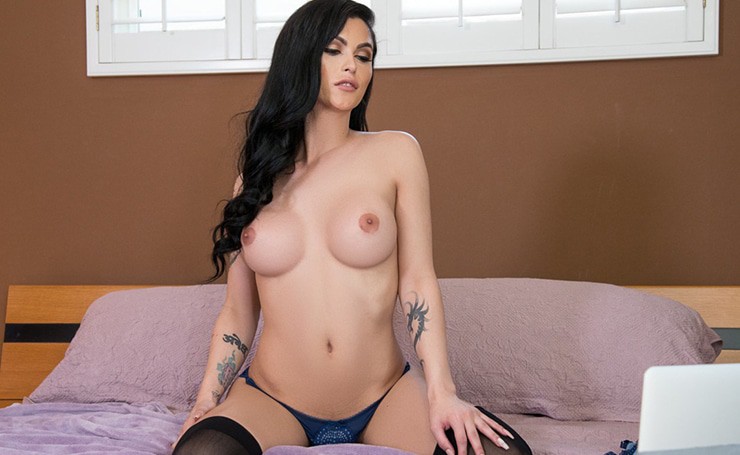 Domino as with Aubrey is a long-standing porn princess with hundreds of scenes under her belt, she's also probably in our opinion the hottest tranny pornstar with Aubrey very close in second place (and we'd forgive anyone who thought Aubrey or Bailey Jay were hotter). Domino doesn't appear in many (if any) studio porn scenes anymore, but she does have her own Onlyfans account, and it is awesome.
Jamie Lee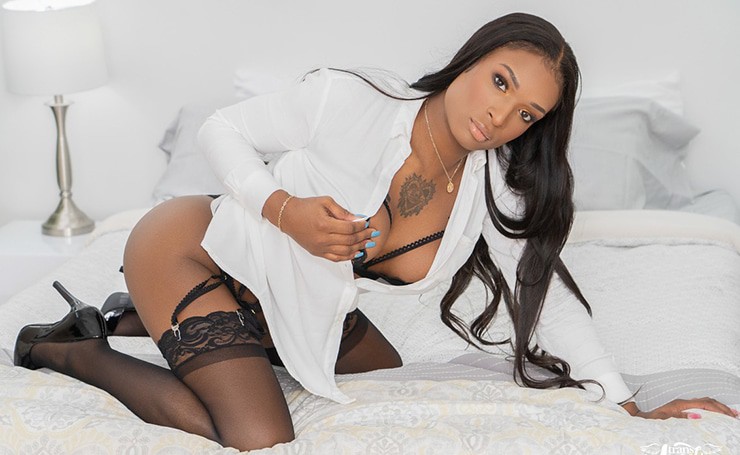 If black pornstars are your thing then Jamie Lee has you covered in the tranny space, she's got a fantastic figure with perfectly crafted fake tits, a pretty face and as with all back girls an ass that's out of this world. She's fairly new to the porn industry so you won't find too many scenes that feature her, however, her best scene (in our opinion) can be found over on TransAngels.
Lianna Lawson
Lianna is a posh blonde that oozes luxury with her slender figure and her beautiful blonde hair. She's all natural (no fake boobs here) but it does look like she's been taking hormones so she's not completely flat chested and although she holds herself well and comes across as a posh totty she's an absolute freak in the sheets. Lianna is probably one of the best all natural girls on this list.
Jenna Gargles
Jenna is a strange one, she wears a lot of makeup and has long blonde hair but other than that she hasn't really changes anything about herself, she doesn't appear to be on hormones so has no boobs, she hasn't had any surgery so for all intents and purposes she's just a guy wearing makeup… But… There's something about her that we love, her face is naturally feminine and hot and her ass is incredible (if you like small bums), so yeah we've given her a place on the list.
Eva Maxim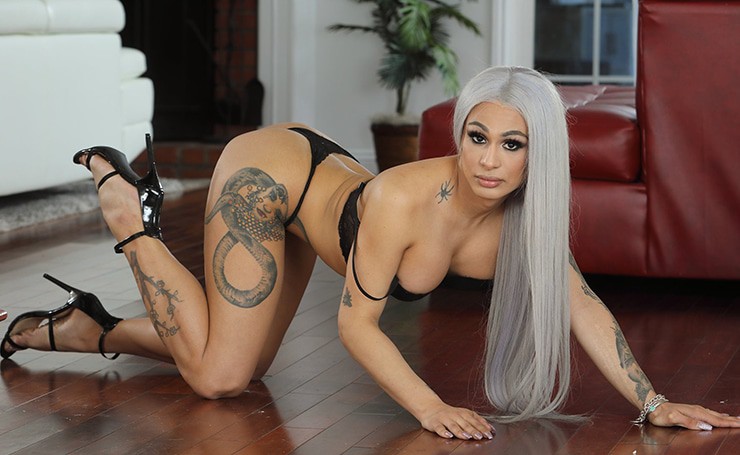 Eva is a new girl but damn was her opening scene on TransAngels hot, you might have seen her sporting dark brown hair but she's also been known to have white hair and that's how we like her best (each to their own). Eva has a fantastic figure and an incredible ass, she also has some lovely ink on her so if you're a fan of pornstars with tattoos go check her out.
Chanel Santini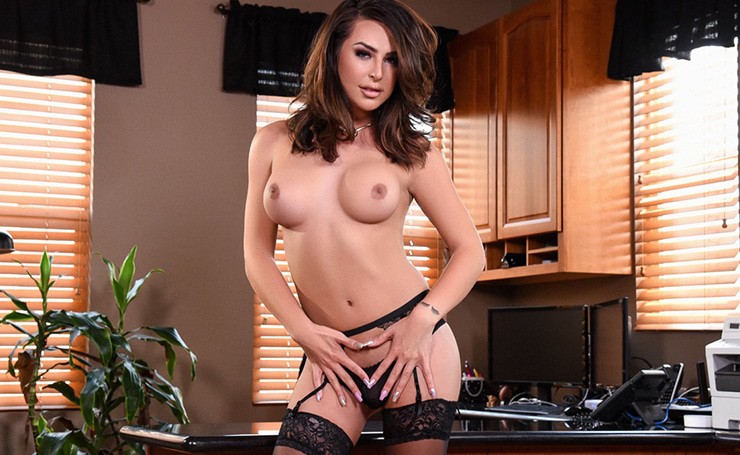 Chanel is stunning, her best scene by far was the one she did with Aubrey Kate, two of the most beautiful transexual to ever exist in porn in one scene it was incredible and the only thing that could have made it better in our opinion is if Domino Presley was in it too. She's been featured everywhere from Transsensual to Evil Angel so there's definitely enough content for you to fap over if Chanel tickles your fancy.
Bailey Jay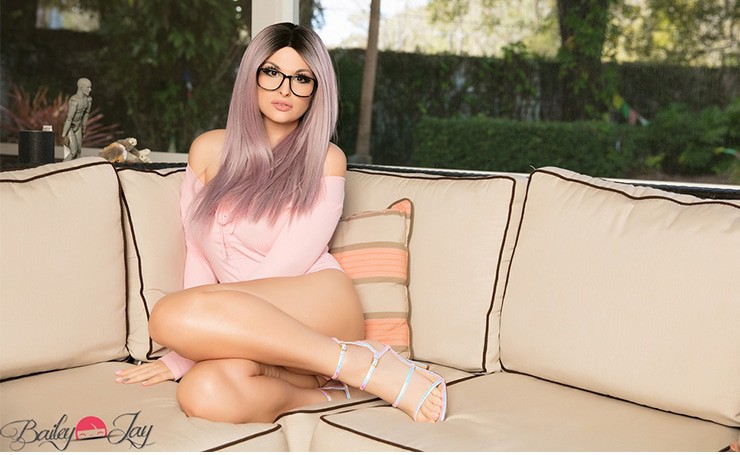 I don't think anyone quite has legendary status quite like Bailey Jay, she's been one of the hottest shemale pornstars for years and that still rings true today, the only negative of her is that all her latest stuff can only be found on her own website which for porn loves like us isn't ideal as it's just another subscription you have to pay for and our tastes change from day to day, one day you might want to fap over Daisy and the next you might want to fap over Bailey it depends on your mood so if you only have a limited amount of money to spend on porn each month subbing to a single girl site isn't the best idea, unless of course you want Bailey and only Bailey then go ahead and we'd say great choice.
Casey Kisses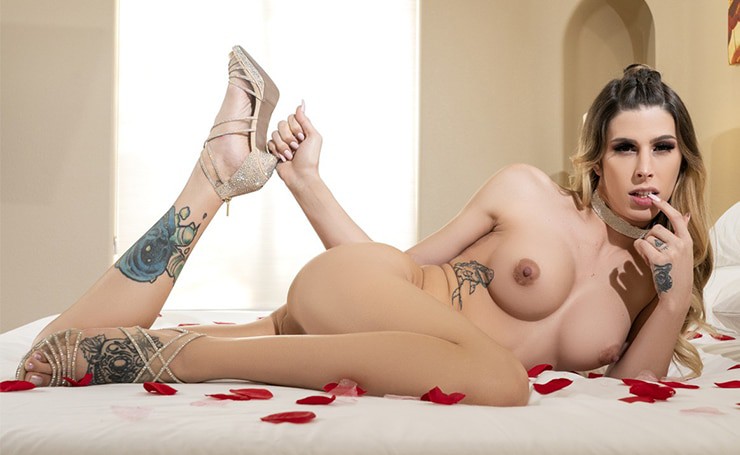 Casey is awesome, not only is she an absolute rocket she also seems to be quite into girls which is great because if we're all being honest lesbian porn can be a bit boring but when one of the girls has a penis, things start to get a lot more interesting especially when that girl with it looks smoking hot. We especially love the relationship she has with fellow pornstar (and possibly girlfriend?) Kylie Le Beau who's equally as stunning, these two girls have been in so many scenes together we've lost count and the both even cam together over at Chaturbate and their shows are well worth a watch.
Korra Del Rio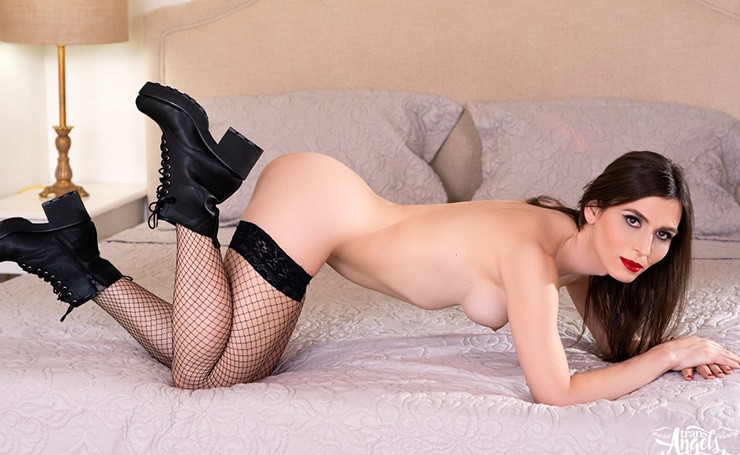 If memory serves us right Korra was the first transexual pornstar that we discovered online (it was a total accident) and since then we've been looking for more and are amazed at how good some of these girls look and Korra is no exception. For that introduction into the world of transexual porn she will always be special to us, well the introduction and the fact that she's sexy as hell.
Ella Hollywood
This cute little blonde petite firecracker could turn even the straightest man into a transexual lover, she's got an awesome figure and small all-natural tits to go with that. She's released tonnes of content so if you like her, you won't be hard pressed to find a video or 10 to watch even on the free porn sites (you should always pay for porn…).
Daisy Taylor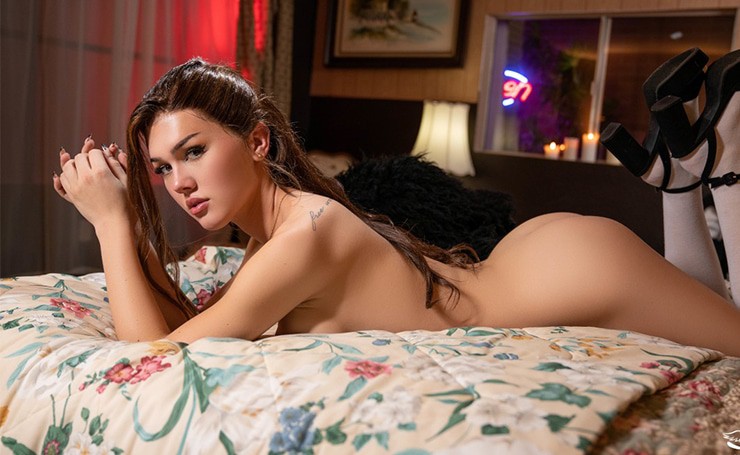 She's one of the newer girls in the industry, she started her career on Pornhub and since then she has exploded and has been featured by all of the noteworthy studios including TransAngels, Evil Angel, Grooby and more. She's got an incredible figure and a beautiful convincing and natural face, she's definitely worth a watch.
Khloe Kay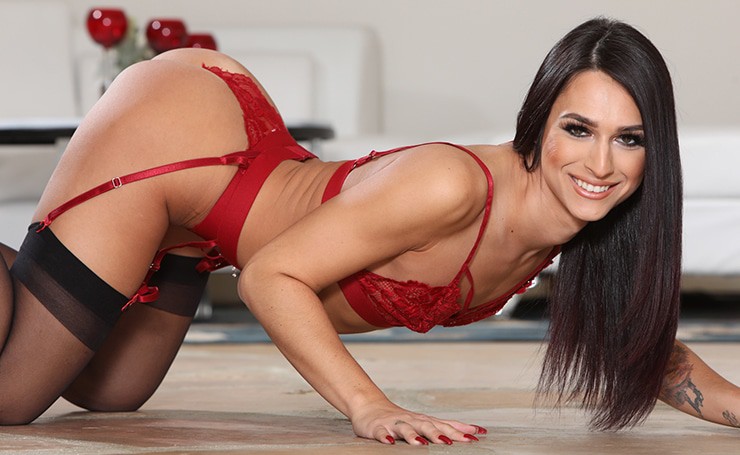 At the moment Khloe is one of the if not the most popular shemale pornstar right now especially since girls such as Aubrey Kate have slowed down and don't really release new content much anymore. Khloe is totally flat chested but she's slim and has one of the most convincing faces we're ever seen on a transexual, she's naturally feminine and she's naturally sexy.
Andrea Zhay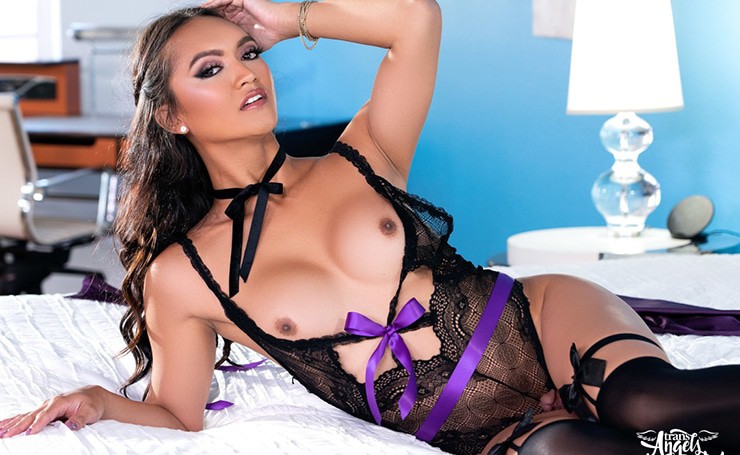 If Asian pornstars are your thing than Andrea is going to blow your mind, now there's a lot of hot Asian transexuals so many that we could probably fill this whole list with just Asian shemales but we like diversity and there's something about Andrea that makes her stand out from the crowd. She's got a great body and good size tits (though in our opinion it's not the best boob job) but what makes her different is her cute face, she's a stunner and we hope to see a lot more of her.
Natalie Mars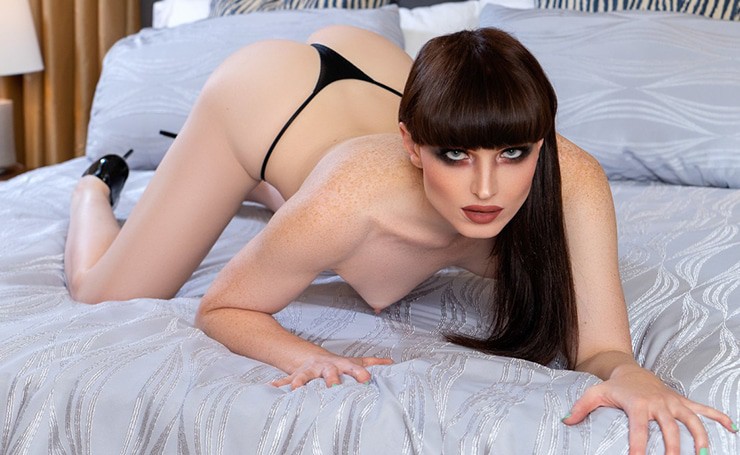 Natalie is a demon and that's why she'll usually play the dominant role if it's girl on girl (or TS on TS) and her sharply cut hair and stern face just makes her look like a kinky freak and that she is. She might be one of the best shemale pornstars we've seen on video when it comes to sexual performance and even though in our opinion she's not quite as feminine as other girls on this list she's still one of the best to watch.
Foxxy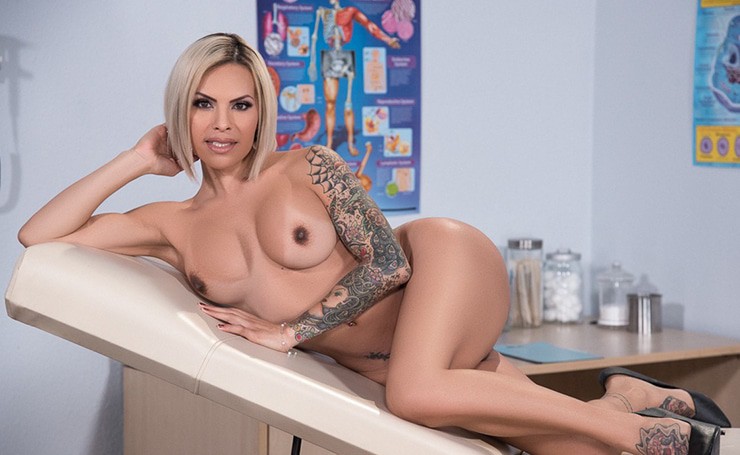 If you like tranny porn you'll have heard of Foxxy before and if you don't know her by name you'll almost certainly know her by her looks. She's a transexual icon and that's earnt her a space on this list, in our opinion she's not the hottest transexual on this list but she is by far the hardest working, there's so many videos of her out there it's unbelievable.
Jane Marie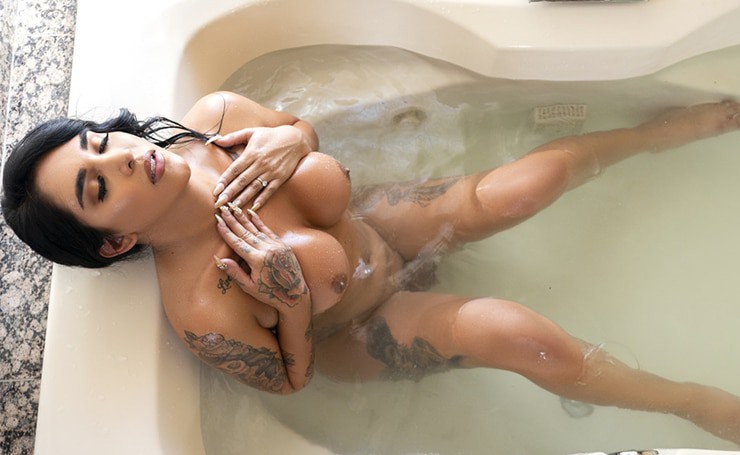 Jane Marie was our second transexual love after Korra, Jane is old school she's been in the industry for some time, however, she took a break for a year or 3 and on her return, if we're being honest, she had lost some of he appeal, some of her sexiness (if that's a word). The reason for this is, as terrible as it sounds is because she put on some weight. We're not fat shaming here, she's still hot and you already know we like BBW pornstars – we're just saying she looked way hotter before and because of that she deserves a spot on this list, she really was the hottest shemale pornstar of her time.
Jade Venus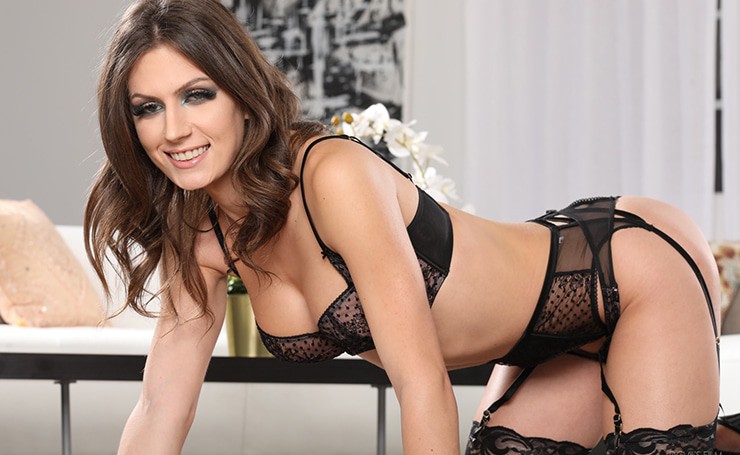 Jade only entered the porn scene properly last year (2020) and wow did she enter with a bang, with a body of a goddess a face of a princess and a mind of a whore what's not to like… As you can expect since she's only been in the game a short space of time there's not too many scenes out there featuring her (maybe a dozen) but what she has out out has been great and she doesn't seem to be slowing down as there's already upcoming scenes featuring her.
SEE ALSO: Asian Pornstars
And there we have it, the hottest transexuals that reveal all on the internet (in our opinion), we hope you enjoyed reading and if so please do consider checking out our other lists especially our legendary hottest pornstars list.
Did you like our Shemale Pornstars list?
If you liked it let us know in the comments, and equally if you disagree with some of these girls or think we've missed girls that should be on here let us know – we probably don't even know about them! And remember, check back regularly as our lists are constantly updated.
Tranny Pornstars FAQ
We get asked the same questions all the time, so we've added FAQs to the bottom of each of our lists to answer the most common ones. As always, if you think we've missed someone off the list the best way to potentially get them added is by dropping a comment in the comment section at the bottom of each post.
It's offensive to call transexuals shemales
Yes, we're aware of this and we apologise to anyone who has been offended. The problem is we live on the internet, and the internet is run by keywords and if we don't use that word we don't show up. It's a poor excuse but that's the excuse we're using.
You're missing XYZ
We don't claim to know every single pornstar out there, so if you feel like we've missed someone of the list please do let us know in the comments and we'll be sure to check her out and add her if we think she deserves it.
This type of content offends me
Yeah we've had people tell us this, but to be honest we don't care. It sounds harsh and we love all our fans but this is the 21st century, if you don't like this content then check out our other lists.
Does liking transexuals make me gay?
Everyone has different opinions but ours is this. No it doesn't, being gay means you're attracted to the same sex, look at the girls above do any of them look like men to you? No, I didn't think so - therefore you're not attracted to men, it doesn't matter what genitalia they have.