This List Was Last Updated on Jan 16, 2019.
We love black pornstars here at IFL Porn, they seem to know how to work a man better than a lot of white girls, as they saying goes 'once you go black you never go back'. Not sure how true that is but we love them all the same. Check out our favorite ebony pornstars and let us know of any that you think we have missed!
SEE ALSO: Big Ass Pornstars
Sarah Banks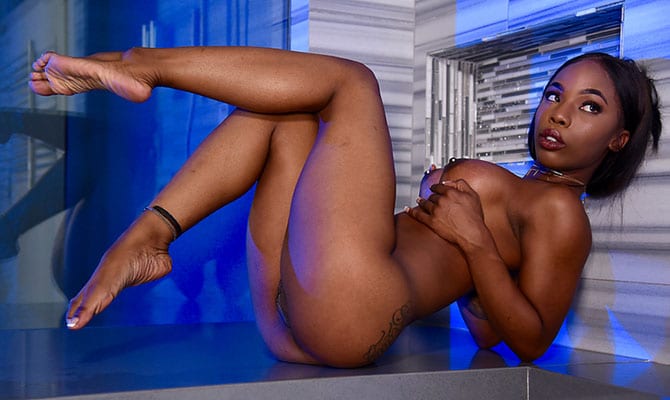 When Sarah first entered the porn scene we thought she was hot, we especially loved the tattoos on her ass the only thing we thought she needed was bigger tits…. Well, since entering porn she's had a boob job and now they look incredible, she hasn't gone overly big, they're just the right size, plus they're pierced and piercings make everything better.
Cassidy Banks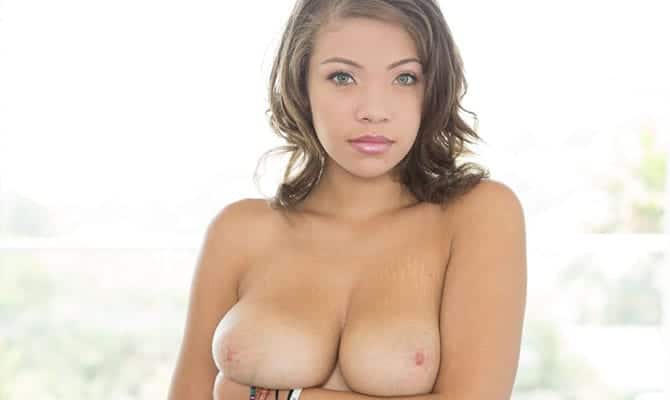 Cassidy is a newcomer to the porn scene, but her career has started with a bang and you only need to take one look at her to find out why. She's got a great pair of natural tits, a curvy body and a cute face… She's destined to become one of porn's greatest black pornstars if she continues her porn career.
Brittney White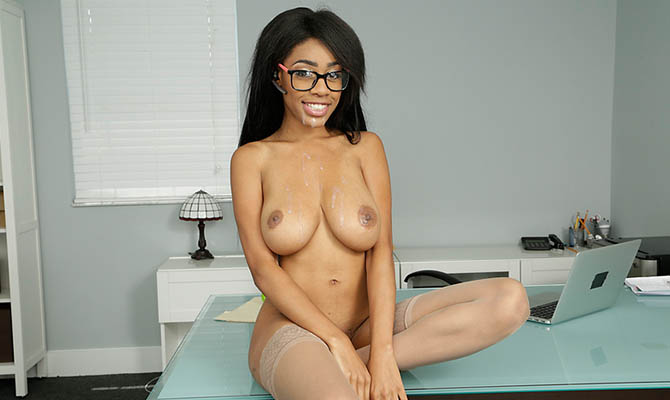 Brittney was the hottest ebony newcomer of 2016 and she's probably got the best all natural tits of all the current black pornstars. But what's even more incredible is her figure; it's very rare to find a girl with massive natural tits and also a teeny tiny waist but Brittney has both. She's been pretty active this year so there's plenty of videos of her to watch – Bang Bros has the most.
Moriah Mills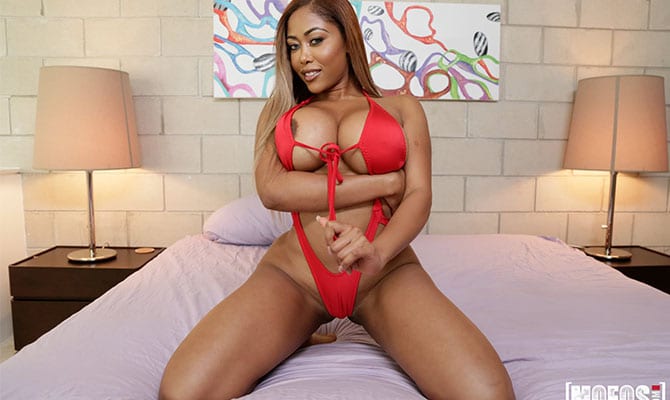 If you love your black girls with big asses and tits then Moriah is the perfect companion for you. Moriah started her quest for fame on Instagram where she's racked up over 1.8 million followers (after entering the porn scene this has risen to over 2.2 million), however, unlike the usual instagram girls who go on to promote beauty products and weight loss programs she's decided to turn to porn, which in our eyes is the perfect choice.
Anya Ivy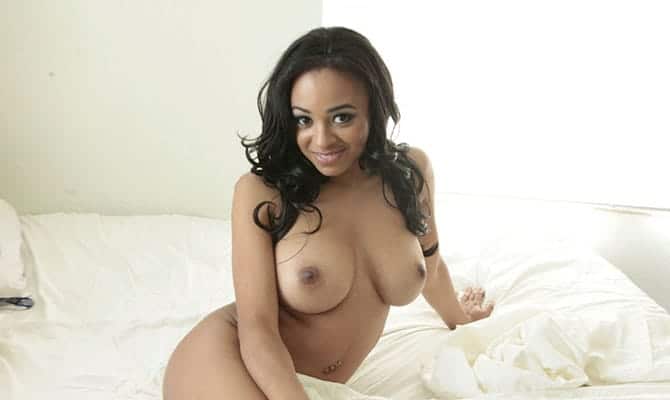 Anya has been getting a lot of attention recently from the big porn studios, especially Brazzers. She's not new to porn but she is only now getting the recognition she deserves. She has an absolutely amazing figure and a great pair of tits.
Chanell Heart

Chanell is a babe, she might not have a big pair of tits but if you've followed this site for any amount of time you'll know that doesn't bother us, small tits can be sexy too. To make up for her lack of boob she's got ass in abundance and best of all is her pretty face. She's a black pornstar to watch in 2019 as we're expecting big things.
Jasmine Webb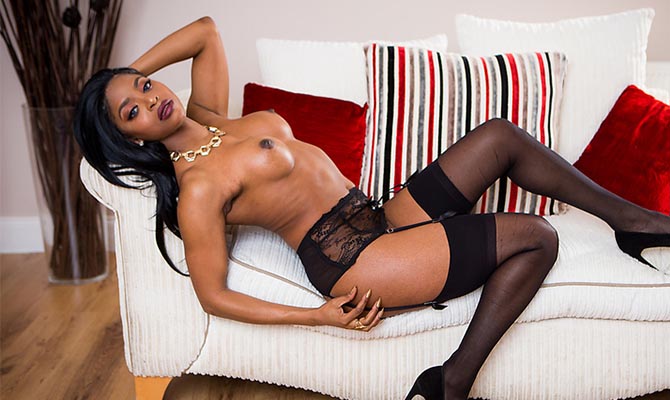 This beautiful British eBony has been in the porn scene for a while originally shooting for Killergram, however, we were never really a huge fan of hers, something about her scenes just didn't turn us on. However, that's now all changed and her latest scenes have been incredible so if you've seen her before and didn't like her, go take another look you'll be pleasantly surprised.
Aaliyah Hadid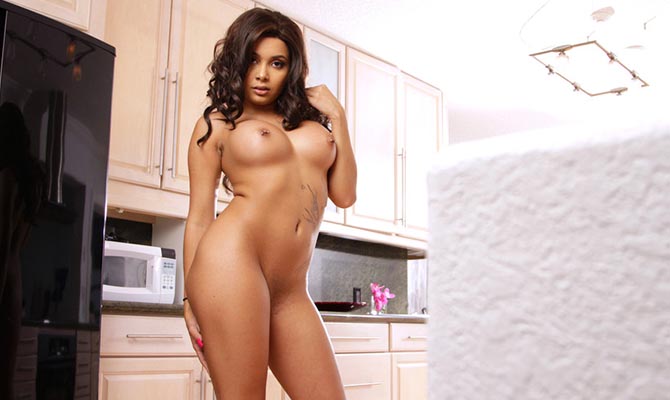 She's been in porn for less than a year and has already made it onto our top pornstars list as well as our porn newcomers list and we're sure she'll be appearing in more of our lists in the future. When we watched her first video we fell in love, she's got everything you would want from a pornstar, the looks, the tits, the ass and the figure – she's got a very bright future in porn, and hopefully for us a long career ahead of her.
Nicole Bexley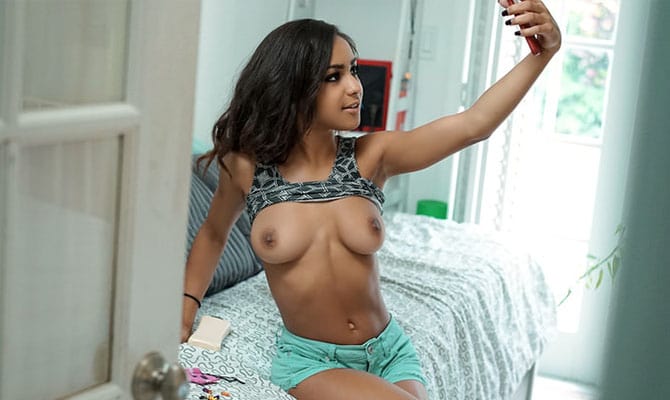 This beautiful teen entered into the porn industry shortly after turning 18, and what a blessing that was. We first saw her on Mofo's but since then she has been featured by Reality Kings and she's already proving to be hugely popular with ebony lovers everywhere, quickly rising to the rank or 12 on Freeones so it's only a matter of time before you can find her elsewhere. She's got a bright future in porn if she decides to carry on, which of course we are hoping she does.
Brandi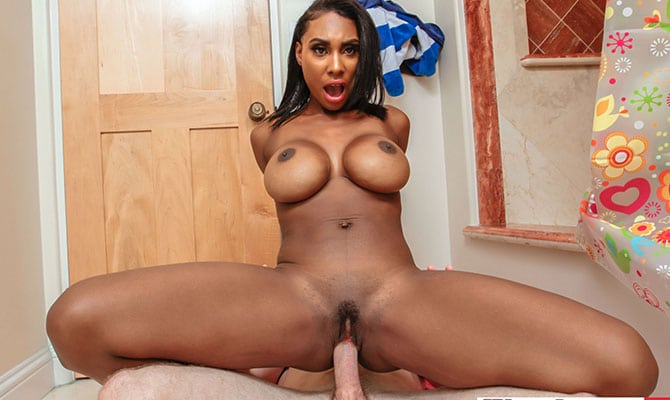 The first image we saw of Brandi was her performing reverse cowgirl on a lucky guy, and wow, what a first image to see – her amazingly perfect figure and a perfect set of fake tits make that position a treat to watch. She's a newcomer to the industry, which means she's only released a few scenes at the moment but we're hopeful more are on the way.
Layton Benton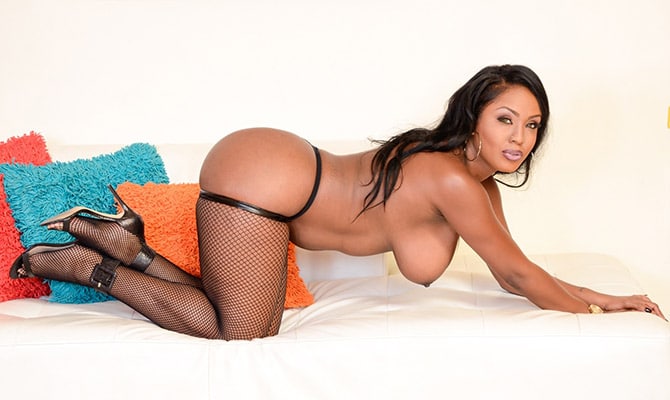 If you're fans of curvy and slightly chubby girls and also a fan of black / ebony pornstars then you're in luck, there's a new pornstar on the scene and she goes by the name of Layton Benton. This 27 year old has a pretty face and more importantly an amazing pair of tits. We say she's a new pornstar but technically she's not, she was around back in 2012(ish) but she took a long break, back in 2012 she was also slimmer – we're undecided as to which version of her we prefer but either way she's always looked hot.
Notable Mentions
Ivy Sherwood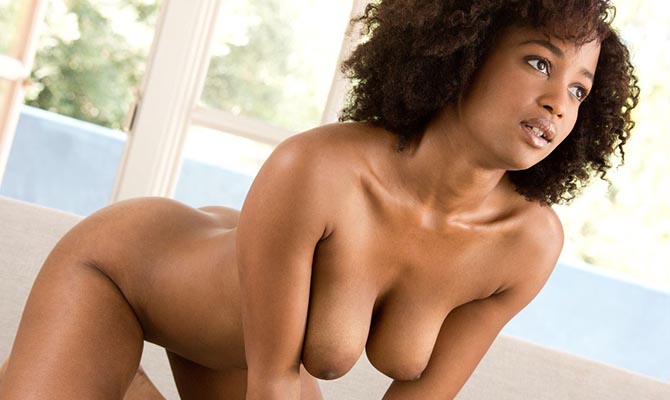 She's got a cute face, a great figure and a lovely set of all natural tits, the thing we like most though are her nipples and more specifically here areola (this is the darker skin around the nipples). She hasn't released that much content, but hopefully, there's more on the way!
Jai James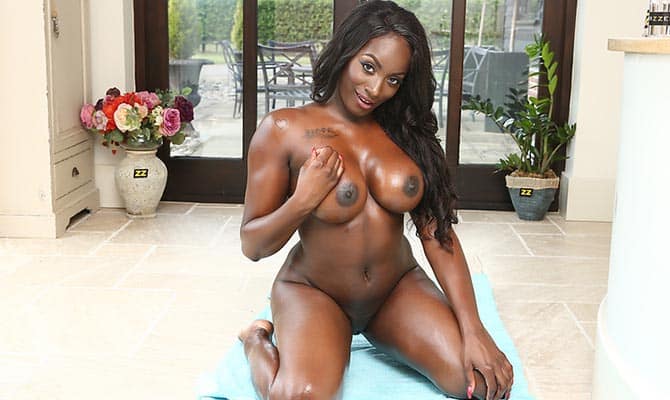 There's not many new ebony pornstars joining the industry, they seem to come and go after just a couple of scenes, but dear god we hope Jai sticks around because in our eyes she's what every black pornstar inspires to be, she has an amazing set of tits, a great figure a pretty face and an ass made to be bare – she's British too so she has one of those sexy 'come fuck me' accents.
Osa Lovely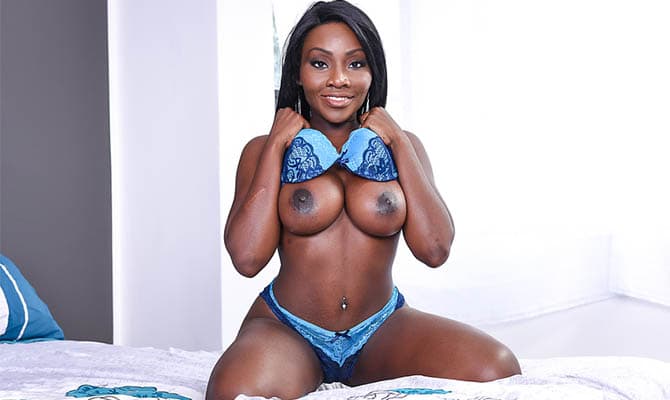 We first spotted Osa over at Reality Kings but she hadn't released any new content for a while, but now she is back from her break and has recently released a couple of scenes for Brazzers, the break definitely treated her well as she is back hotter than ever, she has a new set of tits, and amazing figure and seems more elegant than before hence her addition to our top pornstars list. She's definitely one to watch over the new year.
Ana Foxxx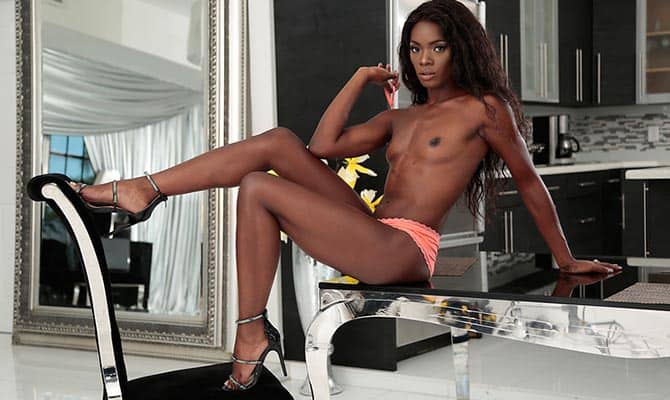 She might have small tits and she hasn't got a big ass, in fact her ass is pretty small (we imagine black girls would say she has a white girls ass) – but she's got a beautiful toned body and a pretty face. So although she's not your typical ebony pornstar, there's something about her that keeps us wanting more.
Nadia Jay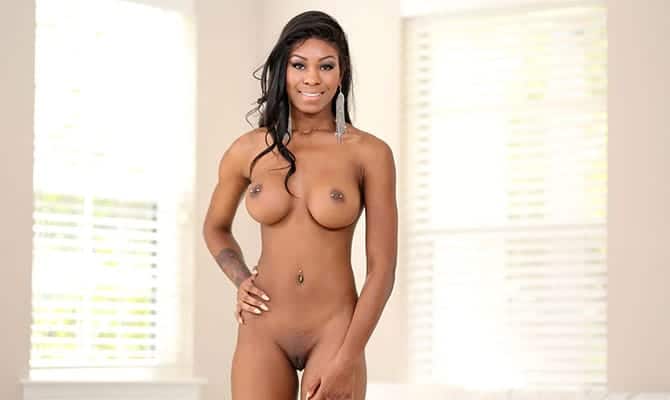 We're not quite sure how we overlooked this gorgeous ebony babe, but luckily for us, one of our readers pointed us in the right direction. Nadia has an amazing figure, and an incredible pair of (fake) tits, and what makes her tits even better is her sexy pierced nipples. We first spotted her over at 'Round and Brown' by Reality Kings and since then we've seen her pop up on several sites with one of her best scenes being on Exotic 4K by Passion HD.
Kiki Minaj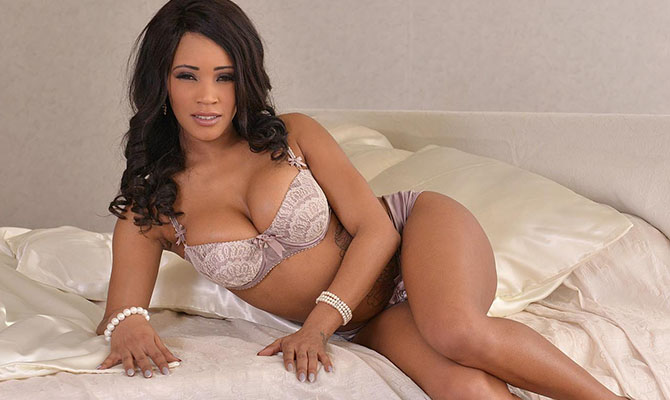 We've been fans of Kiki's for a long time but we were hesitant to add her onto this list as she hasn't released any videos for a while so we assumed she had retired. However, she has an upcoming video on Brazzers so we're assuming she has now returned to porn. She's one of the best black British pornstars we've seen and we're hoping she's here to stay this time.
Jenna J Foxx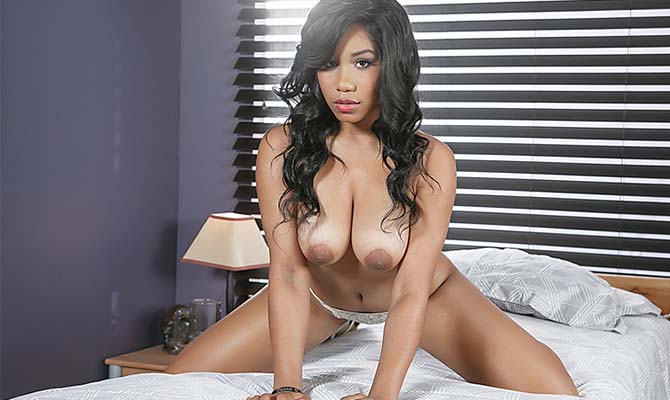 When we first saw Jenna on Brazzers we were blown away by her awesome natural tits and pretty face, and things only got better in her second scene. She's new to the porn industry, so chances are you haven't seen her before – we'd highly recommend that you change that asap.
Jezabel Vessir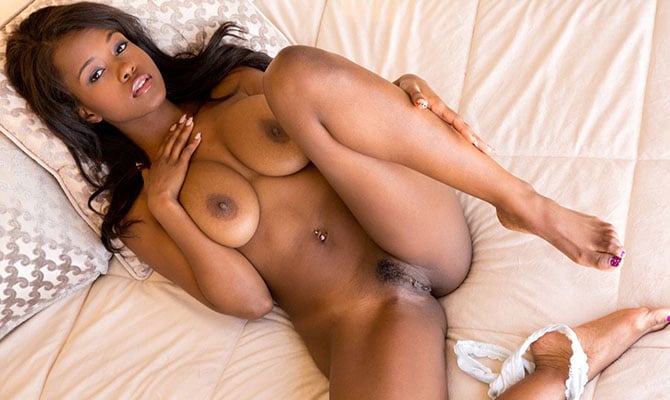 The first thing you will notice about Jezabel is her tits, they are massive and before you ask yes they are natural. We first spotted this girl on Reality Kings, but since then she has been featured by BangBros and by a few other studios – her best scenes however, can still be found at Reality Kings with her most recent being one of her best yet and one of the reasons she was included here.
Diamond Jackson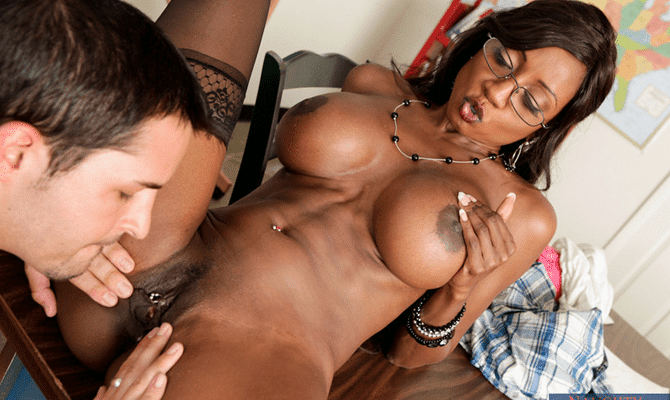 Diamond is one of the most popular 'milf' ebony pornstars at the age of 48; with massive triple D tits (fake) and an athletic body, diamond is without a doubt one of the hottest ebony pornstars right now.
Mya Mays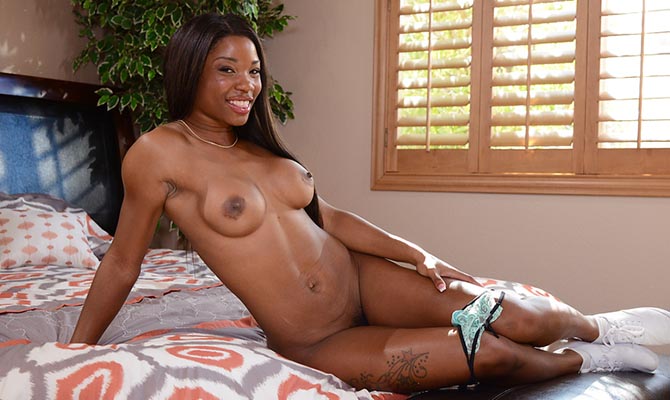 Mya has been on our radar for some time and we kept meaning to add her to this list but now she's becoming more active with more porn studios we've finally got around to adding her. She's a 25-year-old ebony goddess that knows how to fuck and we can't wait to see more of her soon.
Skin Diamond
Skin Diamond is one of the most followed and in our opinion one of the best black pornstars in the industry. We love her 'emo' look with her half shaved head, we love her tattoos and we generally just love her. She has released over 245 videos and has won 4 awards, there's no doubting that she belongs on the list.
Teanna Trump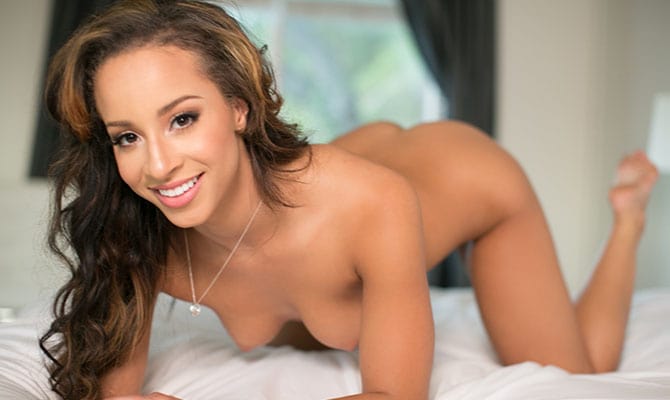 Teanna entered into the porn scene in 2013, and to date she hasn't been hugely active, however we believe that is because of her rather than porn studios not wanting to utilize that beautiful body she has. 2015 was the most active she's been, and hopefully this continues into 2016 now she has a good online following.
Jade Aspen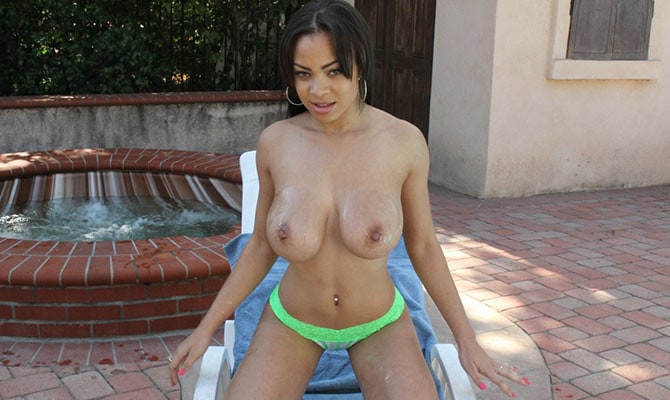 Jade only narrowly missed out on being featured on our 'pornstars with natural tits' list, but there was no way she was going to be missed off of this one. She's a beautiful girl, with a cracking body and a great pair of all natural tits. She's not that well known so if you've never heard of her before we suggest you go an check her out.
Harley Dean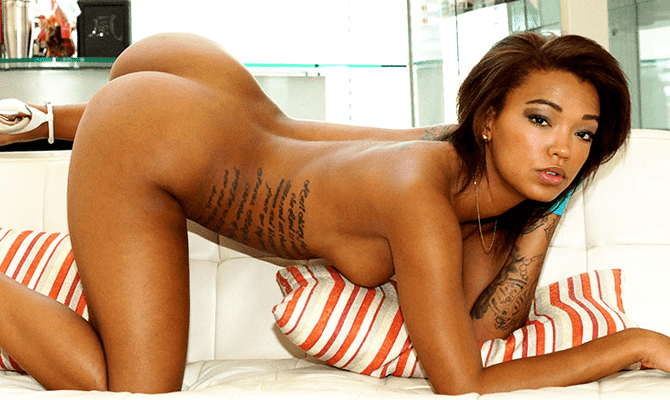 The 21 year old Harley Dean is without a doubt one of the hottest ebony pornstars to have ever existed. She has a great set of tits, a perfect ass (not too big) and a lovely figure. If she had been more active she would have easily made it into our 'top pornstars right now list'. But at present, she hasn't performed in enough scenes to deserve it.
Mary Jean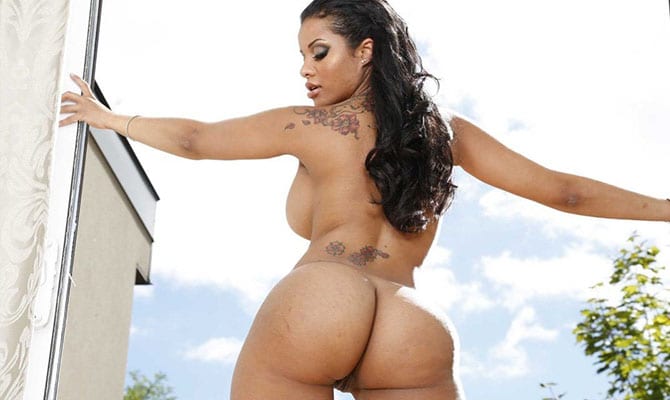 We made a decision not to add Mary to the list when we first created it because she was very quiet in the porn scene. However, she's just been featured by Brazzers so we're guessing she's back to her old tricks and shaking her big black booty once more.
Lacey Duvalle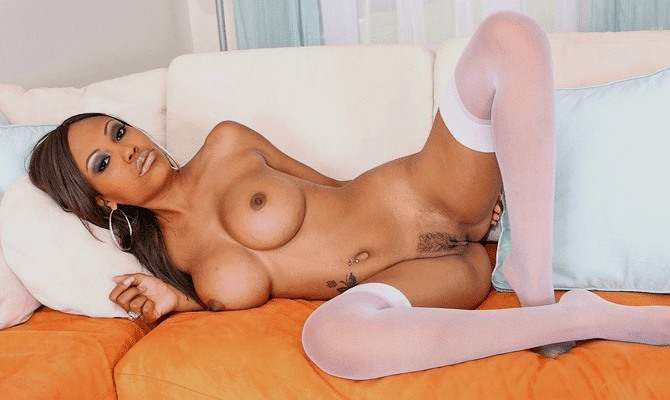 Lacey has been in the porn industry for quite some time, she's released plenty of material to keep you busy and she has it all – a cute face, nice tits (all be it fake) and a killer ass. If you like your ebony girls, you should definitely check her out!
Bethany Benz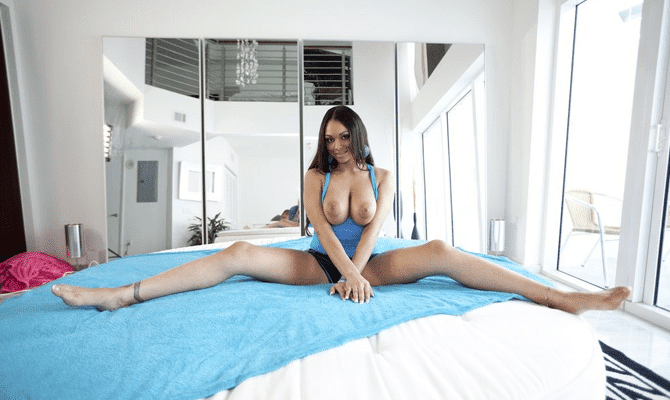 Bethany has appeared in music videos, reality TV and of course in porn. In her own right she could be considered a celebrity. It's her gorgeous natural tits that seals the deal for us, and of course her awesome body that any woman would love to have – but we're men so her tits we the deciding factor when we were contemplating placing her on this list.
Rose Monroe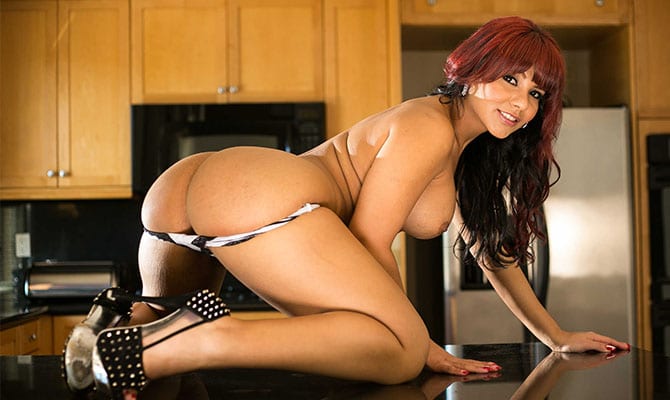 As strange as it may sound, Rose has a beautiful face… And of course a great body. She's been in the porn game for about three years and she's still active so expect more from her yet. The best scenes of her we have found on Reality Kings, so if you're in the mood to play with Rose head over there.
Leilani Leeane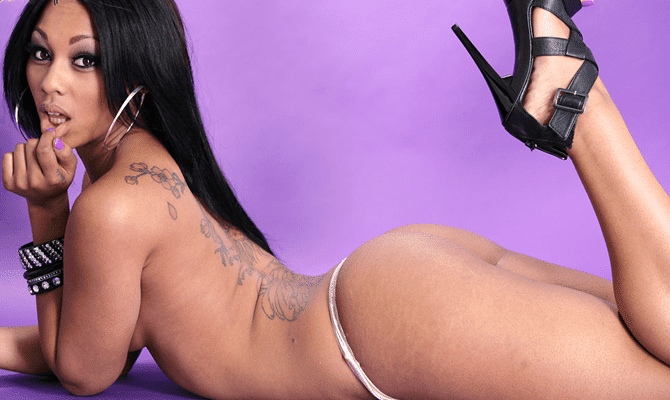 Leilani hasn't produced that much content during her porn career but the stuff she has produced has been good, and her tits are real which only adds to her appeal! She's 23 years old and has a hot tattoo on her back, if you haven't already you should check this girl out if you're into your ebony porn.
Nyomi Banxxx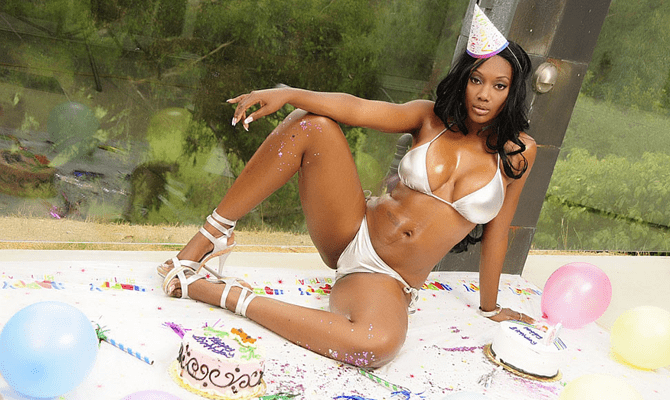 Nyomi has won awards for her performances with the most notable being 'Best MILF Performer', personally we prefer Diamond but Nyomi is a very close second. She has been very active in the porn scene so you shouldn't find a shortage of material to watch.
Lavish Styles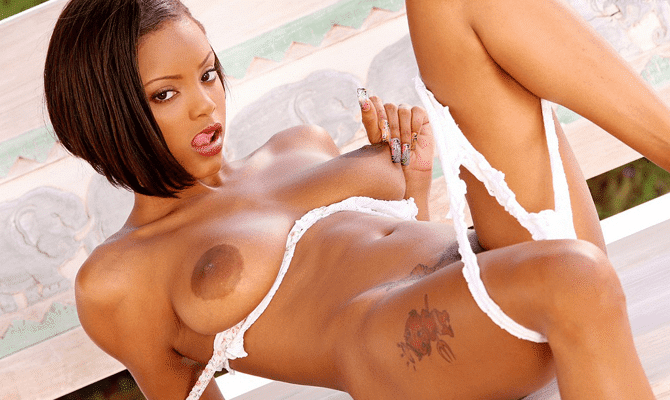 Lavish is a Rhianna look-a-like, so what's not to love about her? The only reason she didn't make the cut is that she has ended her porn career early and as a result there are not many videos of her available. Don't let that put you off though, each and every video she has done has been awesome.
Jada Fire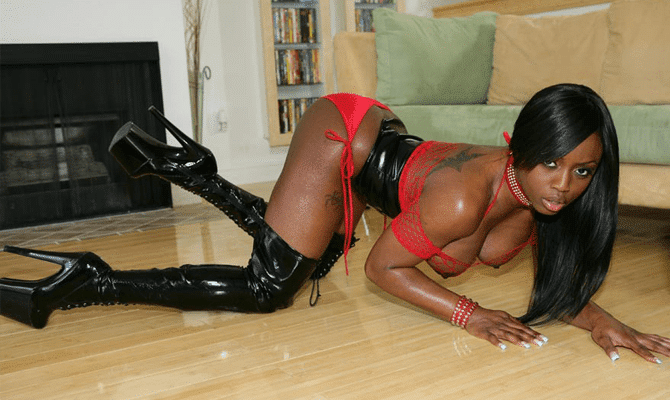 Jada has unfortunately retired from porn, however she has produced so much material that she still deserves a spot on this list. Jada has everything you would expect to find in an ebony pornstar, she has curves, tits and a big ass so there's nothing not to like.
Evanni Solei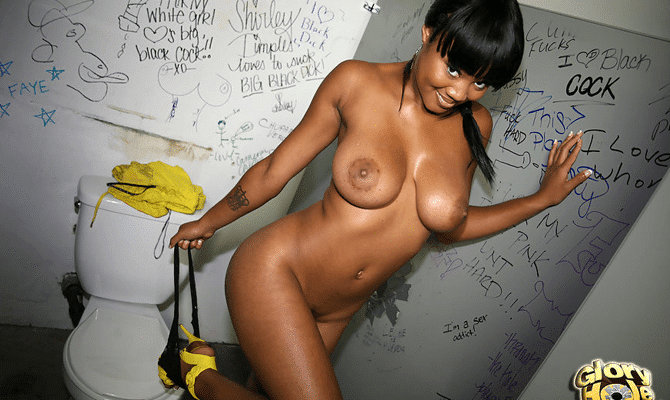 This 25 year old black beauty has some of the best natural tits found on an ebony pornstar. She hasn't released too much content but the content she has released has been well received, if you haven't heard of her before we highly recommend checking her out.
Codi Bryant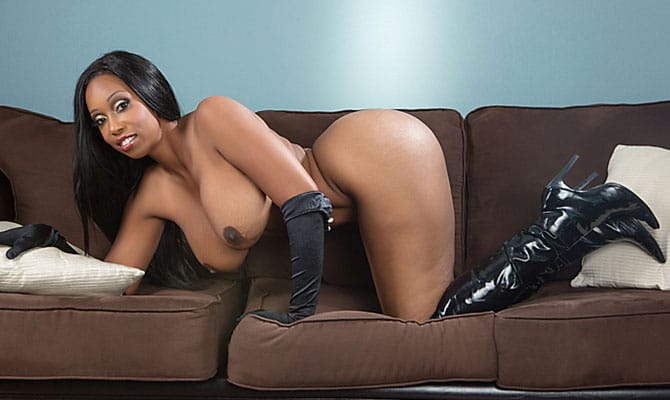 Although Codi has now retired there were enough people in the comments section to get her included. We didn't add her because she wasn't hot, we just try to avoid adding retired pornstars unless enough people request them (as with the other retired pornstars on this list). Codi's figure is amazing, slim with a thick ass and fake tits that have been crafted by a master surgeon.
Carmen Hayes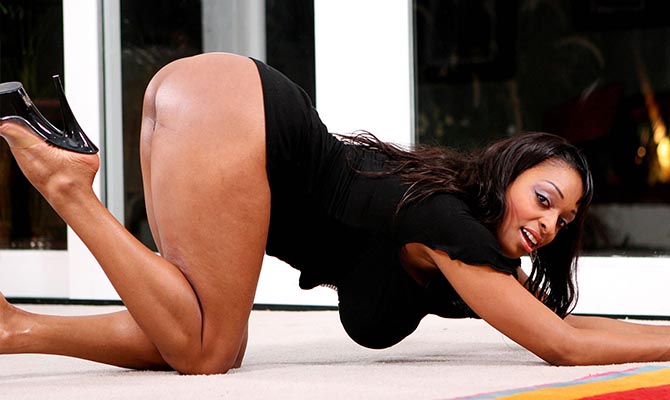 Tits, is the first word that comes to mind when we think of Carmen, she's got an amazing pair of 38G all natural tits. We were planning on writing a bit more about Carmen here but all you need to know is she's got great tits, a great figure and is a pornstar – please excuse us while we 'research' her.
Vanessa Blue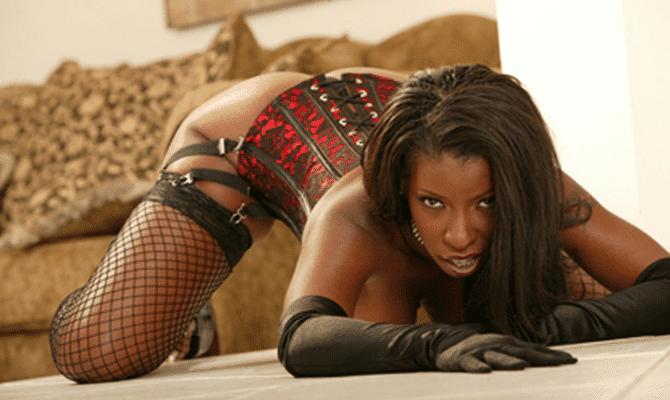 Vanessa is an old school ebony pornstar with massive tits, unfortunately they are fake but you can't have it all right? She has starred in over 180 films, and has won around 4 awards. However she is a little past it now, and has retired but there is still plenty of content on her online and on her own site.
[adinserter name="Block 1″]