This List Was Last Updated on Sep 21, 2021.
Who doesn't love an Asian pornstar? We certainly do! The main issue with Asain pornstars is that when the videos are filmed in Japan (which is where a lot of the hot Asian pornstars reside) we have to deal with the dreaded pixelated image over their private parts – however luckily for us there are a lot of American/Asians. Check out our favourite Asian pornstars below:
SEE ALSO: The Hottest Latina Pornstars
Asia Akira
Asia has been featured on a previous list of ours 'best fake tits', and of course she was bound to make an appearance on this one. She's an Asian goddess, and is regarded by many as the hottest Asian to ever have performed in a porn.
Kaylani Lei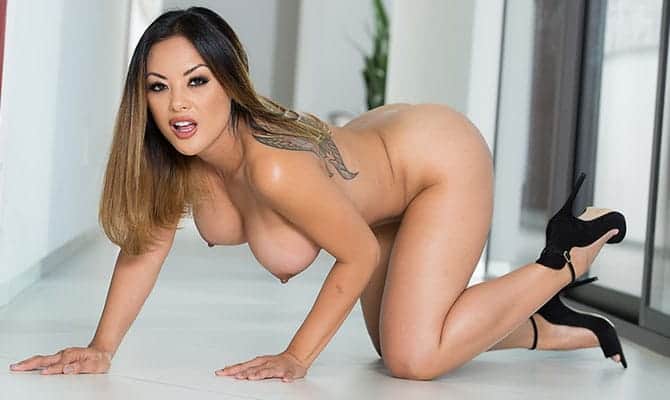 Kaylani is one of the prettiest Asian girls we've ever seen, she's got a slender body a perfect rounded ass and should looks drop dead gorgeous in sexy lingerie as see in the picture above. Her tits were on the small size, but she has recently had a boob job – her new tits are great, but so were her old set, she didn't need a boob job in our opinion.
Brenna Sparks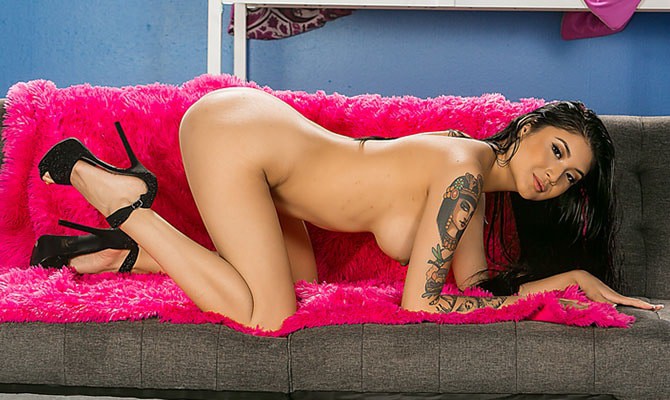 In our opinion Brenna is one of the hottest Asian pornstars to enter the scene since Asa Akira, she entered the scene in 2016 and since then she's released some incredible videos. She's got a great pair of fake tits, a beautiful face and a tattoo sleeve on her right arm – she ticks all of the boxes for us.
Honey Gold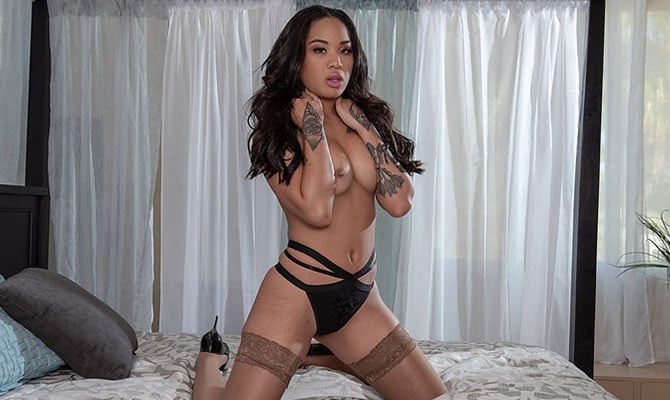 Honey Gold is a stunner, as you may have guessed if you've been on this site before we love girls with ink, we also love black and Asian girls so Honey Gold is like a dream come true, not only does she have tattoos she's also more on the ebony side, so much so we were receiving comments from you guys to add her to our black pornstars list, however, she's not an Ebony pornstar she's Asian so we have put her into this list.
Alina Li
Wow this girl is hot, her most recent videos have been some of the best Asian videos we have ever seen. Her tits are on the small side, but that doesn't matter, you're mesmerised by her lovely figure and beautiful face – plus she has a couple of tattoos which is always a plus.
Sharon Lee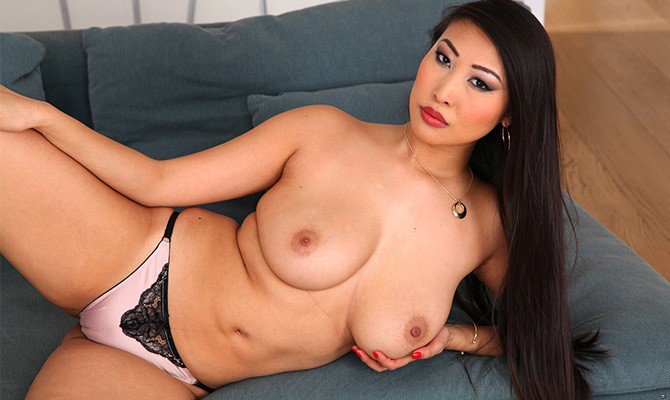 If you like your girls with big tits and curves then Sharon is the Asian pornstar for you, she's got an amazing pair of all natural tits and an ass black girls would be jealous of, this coupled with the tanned skin and a pretty face makes her arguably one of the hottest girls on this list. She's not as active as she once was, in fact we haven't seen a good new scene from her for a while but nevertheless she deserves to be here.
Jade Kush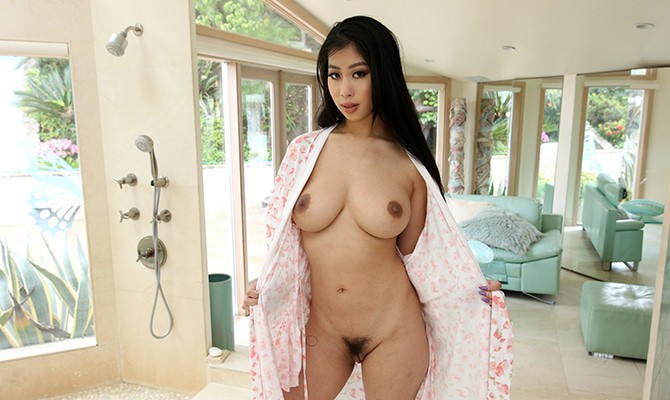 Jade is also sporting a generously sized paid of natural tits with curves in all the right places, looks and body wise she's very similar to Sharon Lee but honestly we think she's hotter. So if you're a fan of Sharon Lee then you'll no doubt love Jade Kush, she's one of the hottest Asian pornstars right now.
Hitomi Tanaka
You have without a doubt seen Hitomi on the tube sites, she has some of the biggest all natural tits we have ever seen on such a petite Asian. Unfortunately most, if not all of her scenes have the dreaded pixilation over their private parts which is so common in Japanese porn. However this doesn't take away from her beauty and many of us have no problem fapping over her.
Miko Lee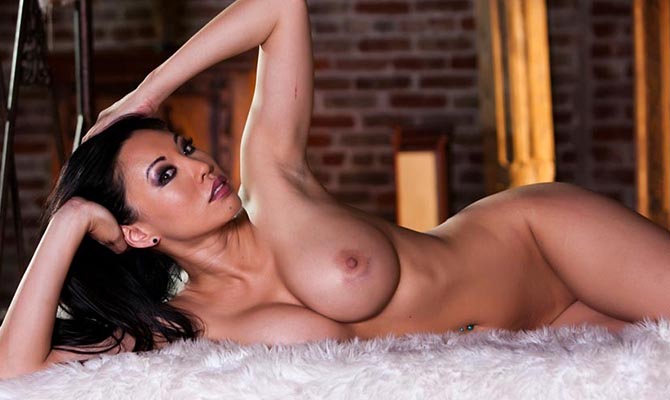 We fell in love with Miko's body when we first spotted her over at Digital Playground and since then we have been following her all over the internet hunting for more videos to watch, and luckily for us there are plenty out there. She's American born but she still looks 100% Asian, unlike some of the other girls on this list!
Jayden Lee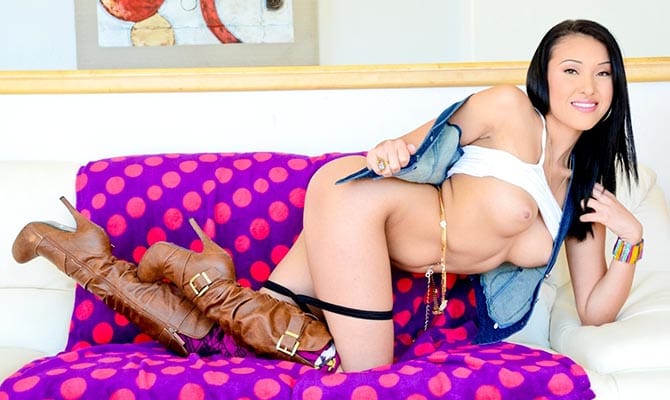 Jayden isn't as well known as some of the other Asian pornstars on this list, but that doesn't mean she isn't one smoking hot chick because she very much is. She's got a cracking body, an authentic Asian face and one of the best rear ends we've seen on an oriental babe.
Notable Mentions
Jessica Bangkok
Jessica has some of the best (fake) tits seen on an Asian pornstar, they look much more natural when compared to Mia Lelani's pair. But it's not all about the tits, Jessica has it all, a curvy figure, plump ass and a dirty mind that doesn't seem to be against doing anything when it comes to sex.
London Keyes
This American born Asian chick is probably our favourite Asian pornstar right after Asa Akira. She has a great body, tattoos, tits, lovely ass and even a couple of piercings which we love to see on Asian girls. At just 25 years old London has the potential to be an 'Asian pornstar legend' and we're sure she won't disappoint.
Ava Devine
Ava is a porn superstar, entering the porn industry 2003 Ava's career has taken off like wild fire. At the age of 41 she's technically classed as milf I we believe that is where most of her popularity has come from, because no offence to any Asians, usually Asian pornstars do not age well and usually quit early on.
Lucy Thai
Lucy is an Asian milf that never fails to disappoint, she's always being featured online in the 'top 10 hottest Asian milfs' lists and she has won a couple of awards for her performances. We love Lucy, almost as much as she loves double penetration.
Mia Lelani
Traditionally Asian pornstars are very petite however, Mia is totally different, and her curvy figure has made her one of the most popular Asian pornstars right now.
Vicki Chase
Vicki Chase has to be in the top 5 when it comes to talking about the hottest Asian pornstars. She is a beauty and has it all, the tits, the ass and a drop dead gorgeous face. Technically she isn't actually an Asian, she's from Mexico as are her parents but there was a lot of debate in the office – the conclusion was that she looks Asian, so she belongs here.
Lilly Thai
Lilly has unfortunately retired from porn now, however, in 2 short years she was performing she released a bunch of videos so there really is plenty to watch. She's the typical Asian, petite, hot and knows how to fuck.