This List Was Last Updated on May 28, 2022.
One of the most popular categories on most tube sites is 'blonde', guys love blondes, as the saying goes blondes are for fun…. Forget the rest because we would marry any one of these girls. It's hard to put together a list of blonde pornstars, mainly because there are so many and we want to keep the post at a good length. We thought about sticking with just a 'top 10 hottest blonde pornstars' list, but there were so many we had to add more! So here we have it, some of out favourite blonde pornstars (in no particular order):
SEE ALSO: The Hottest Red Head Pornstars
Mia Malkova
The 22 year old bubble butt blonde Mia leaves little to be desired, the only thing we would change if we could is her tits, they're slightly on the small side. However her small tits do give her an appeal since it makes her look innocent, somehow – that's why some of her best scenes are school girl parodies. This isn't the first time Mia has been featured by us, she made it onto the top pornstars right now list, and also on the big ass pornstars list.
Addie Andrews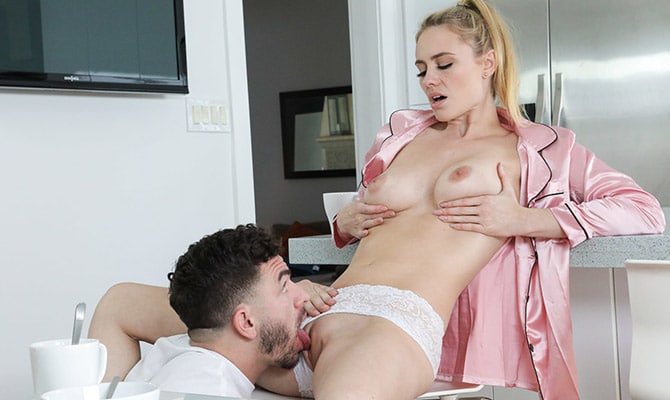 Addie only entered the porn scene this year (2019) but already we're in love, she has a fantastic figure, great all natural tits and a pretty face to top it all off. Our favourite scene of hers so far has to be the scene she did for 'Family Strokes' there's just something about the nightwear that keeps us going back to it (see the picture above). Addie is most definately one to look out for in 2019 and we wouldn't be surprised if she picked up a few awards at AVN.
Kendra Sunderland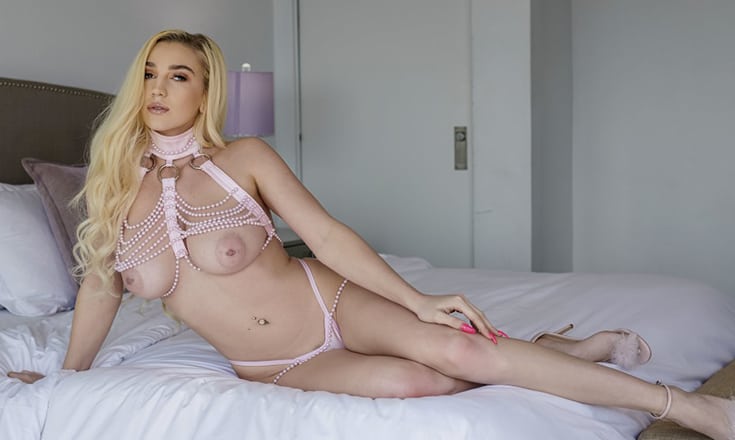 Kendra is absolutely stunning, she has a gorgeous face an amazing figure and a massive pair of all natural tits, and she's blonde young and horny, what's not to love. For all you interracial lovers out there you're in luck as she's got a thing for black men and it makes for some great viewing, however, anal lovers hang your head and cry as she still hasn't performed anal on cam yet but we're keeping our fingers crossed that she does one day.
Skye Blue
There's something about Skye that makes here a bit… Odd. We can't put our finger on it, maybe it's the hairstyles or maybe it's something to do with her face, we have no idea, however, it doesn't take a way from the fact that she's stunning, and those glorious natural boobs are a delight to watch.
Kiara Cole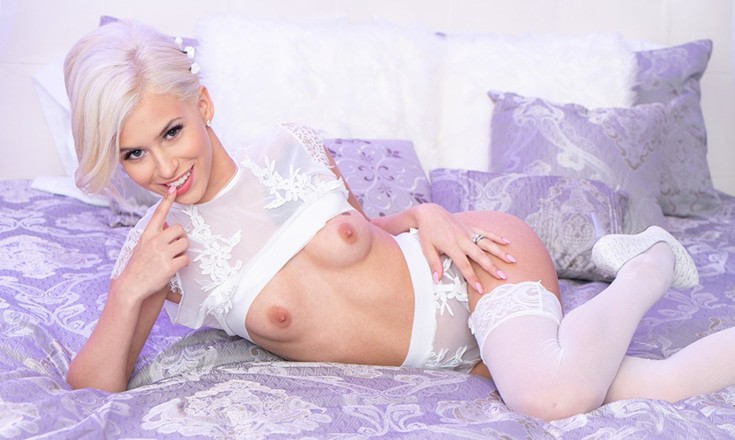 If you love your teen pornstars than Kiara should be on your list of favourites (yes we know she's not technically a teen), and if you love blonde teens than she should be at the top. She's got a cute face which screams she's dirty in the bedroom and that is portrayed well in her scenes, she kind of reminds us of a cuter and more natural Marsha May (in the sense that she was outrageously horny). Yes Kiara has small boobs, but she great figure and tight ass more than makes up for that.
Staci Carr
Staci is portrayed as a 'luxury' pornstar in most of her scenes, wearing very elegant clothing and looking kind of 'posh' which is a great look for her. Her boobs are on the small side, but that's ok because she has the looks and the figure to make up for it. Her best scene is without a doubt 'Staci Carr – Getting Ready For That Cock!' which can be found on Twistys.
Vanessa Cage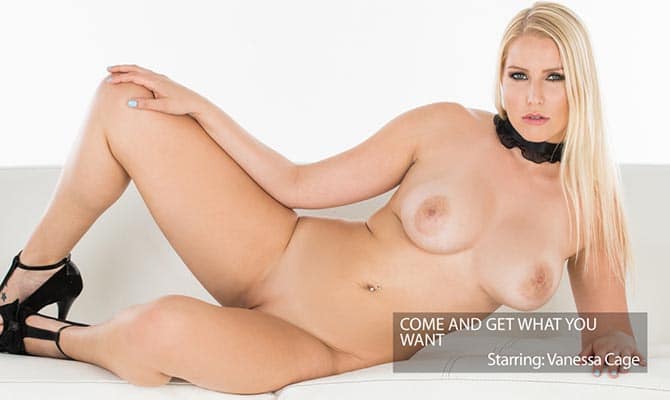 Vanessa is a blonde stunner, she's got curves, big tits, a juicy ass and of course blonde hair. Although her tits are actually fake, they sit and move like the real deal so whoever crafted them for her were pros. We haven't seen a poor scene from Vanessa, even her taboo scenes are good. Hopefully we'll see a lot more from her too.
Barbie Sins
When we think of barbie, as in the character, we think blonde, big tits and a great figure. And that's exactly what you get with Barbie Sins (and she's just as fake). And as her second name would suggest she's a bit naughty, she's appeared in public scenes, gangbang scenes and even water sports scenes – so yes, she has a very dirty side to her which is something we don't usually associate with 'Barbie', but it's great for porn nonetheless.
Nicolette Shea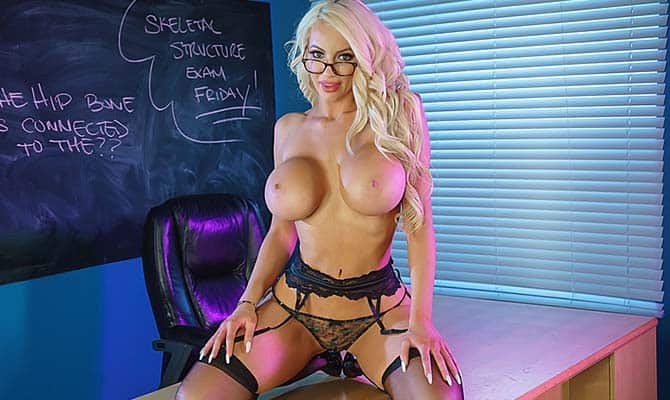 Big fake tits, platinum blonde hair, slim figure and a barbie doll face – that's Nicolette in a nutshell and we fucking love her as do many others. Fake girls aren't for everyone, if they were studios like Nubiles and Babes would have gone out of business a long time ago, but we love them.
Alexis Texas
Alexis, the blonde babe with a bubble butt – we love her and if you're a fan of blondes you will too. We particularly liked one of her most recent scenes, she was in a full body swimsuit, and apparently this is a new fetish that's growing in popularity!?
Tasha Reign
Ah Tasha Reign, if you're into your blondes than you'll have heard of Tasha, and if you haven't than where the hell have you been!? Tasha has been killing the porn scene (in a good way) and she is, as expected on our top blonde pornstars list.
Alex Grey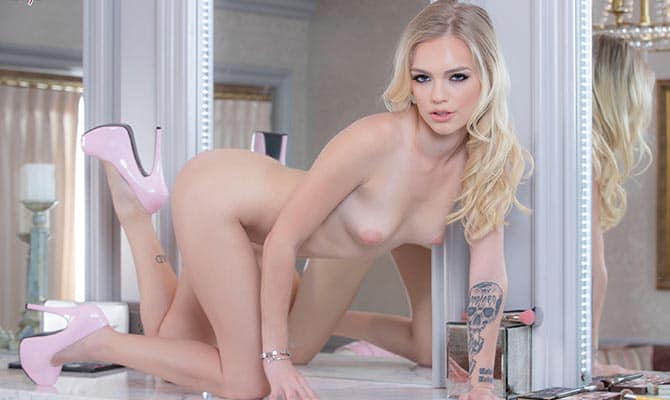 We have always preferred girls with big tits, who doesn't right? That was until we stumbled upon this blonde beauty, she's got such a pretty face, a great body and a sexy round arse that we can overlook the size of her tits. Alex Grey is probably our favorite petite blonde pornstar right now, she's not as active as we would like but the scenes she does put out are all great.
Summer Brielle
Summer has been in the porn industry since 2010 but only recently has she been getting the attention she truly deserves. She has perfect tits (fake), a curvy figure a couple of small tattoos and mesmerising blue eyes – we've spent countless hours 'reviewing' her videos and not one was a disappointment.
Natalia Starr
We sometimes get Staci and Natalia mixed up, their names are kind of similar and they are both beautiful blondes. The main difference between them is their tits – Natalia's natural tits are some of the best we have seen, they're just the right size and look incredible when she's riding cowgirl.
Nicole Aniston
There's no denying that Nicole is hot, however we are not overly impressed with her boob job – they are obviously fake and in all honesty a little pointy… Also there are a few scenes where she doesn't look like she's enjoying it at all, with the most recent being the scene where she's with an Asian. However, even with these negative points, she still deserves to be on this list because she's a babe and her body is perfect (minus the tits).
Samantha Saint
Samantha and her 34DD tits (fake) we're bound to make an appearance on this list. Her role in the Cinderella XXX parody was awesome and she's been very active during her career – though, no offence Samantha you're getting a tiny bit on the large size now!
Madison Ivy
Originally we were unsure whether we were going to include Madison Ivy on this list, mainly because she is now seen with brunette hair more than she is blonde, however she's been blonde in some of her best scenes so it wouldn't be fair not to include her.
Madison Scott
Unfortuneatly Madison decided to leave the porn industry in 2011, but we're hopeful that she will return. She has some of the best fake tits in the industry and an ass better than most. One of our favourite scenes from Madison Scott is without a doubt her prison scene, she looks so fucking hot in it – it's a must see, and can be found on most tube sites.
Update: Madison Scott has returned to porn, being featured in 'The Return of Madison Scott' by Brazzers!
Stevie Shae
We've expressed our love for Stevie on this site a few times now, and we feel that she truly deserves more attention. If you're a fan of blondes and tattoos this girl is for you. A lot of people who search for Stevie's name will search 'angel wing tattoo', yes this is the girl you are looking for if she's blonde.
Rikki Six
We have a lot of love for Rikki, she's got an innocent look about her but she is by no means innocent. Rikki is a real life Barbie, she has the tits, she has the petite body and she has the hair – we would like to have seen her before the boob job though!
Kayden Kayla
Kayden has recently become our most loved blonde pornstar, we think she is seriously hot and has the potential to be a porn legend. Her tits are perfect, her figure is just how we like it and her face is beautiful. If you haven't checked her out already, go now….
Marsha May
Marsha has a lot going for her, she's blonde, she's got tits and she's inked – we'll be adding her to our hottest tattooed pornstars list shortly! She's still fairly new to the porn scene, but her performances so far have been phenomenal.
Cameron Dee
Cameron is something else let us tell you. Her blonde hair, steel eyes and slender figure are enough to send your rocket to the moon and back. Thriving in an environment featuring a lot of cock and you will get the best out of her. Although, give her any cock and she will take it like there is no tomorrow.
Christie Stevens
Christie looks best when sporting some sexy lingerie that shows off her fabulous figure and her great pair of perfectly sculpted 35D fake tits. She's been featured by almost all of the big porn studios, however our favorite scene of hers is the interracial scene she performed with Jules Jordan, she was looking incredible and of course Jules performed as well as always.
Delta White
Delta is one of our favorite British pornstars right now, though she has been quiet recently. We love her emo look with tattoos and piercings, we also love her tits – even if they are fake. Check her out, you won't be disappointed.
[adinserter name="Block 1″]