This List Was Last Updated on Apr 16, 2017.
We've covered European pornstars, but now we wanted to give the Russian pornstars their own list – they deserve it, it's a worldwide fact that some of the hottest girls originate from Russia.
They're hot, they're in shape, they have a face which is stern and sexy at the same time and most importantly they know how to ride a cock. So without further delay let's start listing the hottest Russian pornstars:-
SEE ALSO: European Pornstars
Anjelica AKA Krystal Boyd
Anjelica has been featured a couple of times on IFL Porn before, and just by looking at her you can see why. She's slim, sexy and very active in the porn industry. She's fairly new, but we'd put money on her becoming one of porn's greats if she carries on.
Subil Arch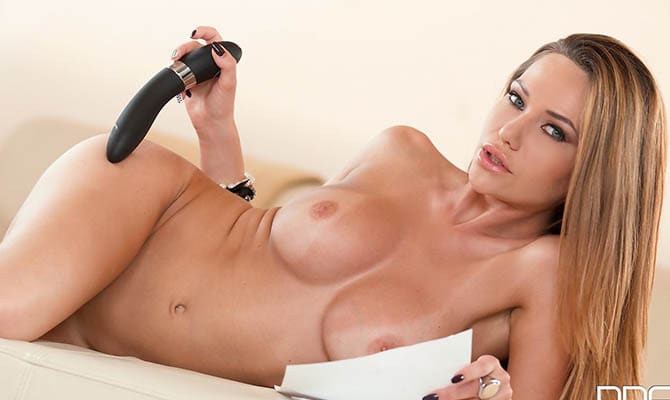 We've known about Subil for a while but we thought she only performed in girl/girl and solo scenes. However after checking out the DDF Network it seems like she does in fact perform in hardcore porn scenes which is fucking fantastic. She's probably our favorite Russian pornstar, we think she has a perfect body, a beautiful face and her nipple piercings are a massive turn on. We'd love to see a lot more of this girl.
Nikita Von James
We didn't actually know Nikita was Russian before we wrote this list, we always assumed she was from the US. Maybe it's because we've only really seen her on Brazzers and Naughty America, instead of the usual sites that feature Russian girls like wowporn. We're big fans of Nikita, and if you're into your busty blondes you will be too.
Marina Visconti
Marina is a naturally busty Russian goddess, she's got everything it takes to be a great pornstar; the tits, the ass and the curvy figure. One of our favorite scenes of her is her threesome scene she performed with Katrina Jade… It was hot!
Mandy Dee
Following on from Marina we have Mandy Dee which is another naturally busty Russian, slightly slimmer than Marina and with blonde hair (instead of brunette), we would say that Mandy is more up our street. What would be a great scene is a threesome with Marina and Mandy – that's not likely to happen though since Mandy has recently retired from porn.
Gina Gerson AKA Doris Ivy
Gina reminds us of Anjelica, she's got a petite figure and a great ass, however if we had to pick between the two Anjelica would always win. If you like them both, then you're in luck because wowporn recently released a threesome scene featuring them both.
Nensi B Medina
Nensi looks like a cross between Marina and Anjelica, she's got a body like Anjelica (slightly bigger tits) but her face is scarily similar to Marina, we wouldn't be surprised to find out that she is Marina's slimmer, less busty sister.
Eva Shanti
Eva is the Russian queen of blowjobs, seriously if you watch one of her scenes you'll see what we're talking about. There's something about petite Russian girls, they just look super sexy, if you were to take a girl from any other country and slim them down to the same size they would look anorexic, but not these girls.
Anna Polina
Ever since we watched Anna's scenes on MoFos we fell in love with her, her tits look amazing on her slim figure (even if they are fake) and her face has a classic Russian/European look which is what makes so many men around the world grow hard.
Lana Cox
Lana is a true Russian pornstar legend, she began her career in 1994 and is still going strong today at the milf age of 45. She's nicknamed 'Leggy Lana' and once you see her you will find out why, but her legs are not the only thing she has going for her, she's got a great figure for her age and a lovely pair of tits.
Sandra Luberc
Sandra is a favorite here at IFL Porn, and since she's had a boob job, dyed her hair blonde and got a couple of tattoos she's even sexier. Her best scenes by far are the ones from DDF. It's a strange thing to say but one of her best assets are her nipples, and luckily even though she's recently had a boob job they are still some of the best nipples we have seen.
So there we have it, our favortie Russian pornstars, did we miss someone off the list that you think should be added? Let us know in the comments and we will take a look, if we agree we will get her added right away!
[adinserter name="Block 1″]