You're either a boob man, arse man, leg man or foot man… I'm sure there are other fetishes out there that people use to determine their girl of choice – the guys here are generally arse or tit guys. Anyway, that last sentence was pointless because this article is our list of the pornstars with the best fake tits, it has nothing to do with feet, arses or legs…
SEE ALSO: Pornstars with natural tits
Lisa Ann
Lisa has some of the nicest tits in the industry, there's no denying that – but although they may look real they are in-fact unfortunately fake, yes here 38DD tits are implants. But we don't care, they are some of the most authentic looking fake tits we have seen, they must have been a nice size before the implants to look that good!
Peta Jensen
Peta only entered the porn industry this year (2014) but already she has made quite a name for herself. The few scenes she has done have been phenomenal, seriously they've been some of the best porn videos we have seen for a long time. You can't keep your eyes of this girl, she has a perfect body and the best tits money can buy.
Madison Ivy
Madison appears on a lot of our lists (obviously apart from our 'best natural tits' article…), this is because she's super-hot and is one of the most popular pornstars at the moment. If you ever watched some of Madison's older videos you would have seen her with smaller tit's, but even before she had implants her videos were still hot… They're now even better.
Ava Addams
Ava's tits are similar to Lisa Ann's in terms of size and shape, which can of course only be a good thing as both have a fantastic pair of tits. Ava first appeared on our hottest milfs list, and she will no doubt be mentioned many more times on this site since she is one of the hottest milfs to ever have graced the earth.
Tasha Reign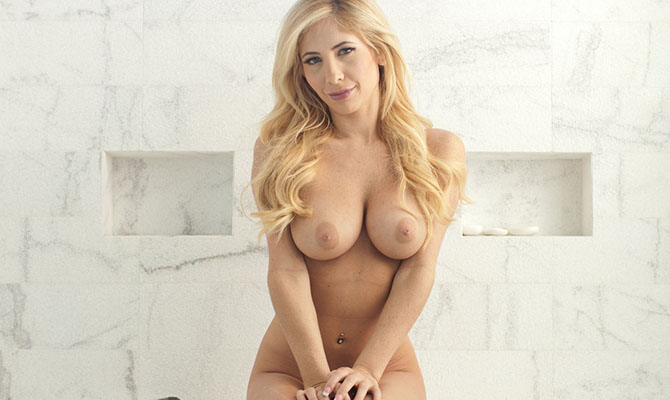 Tasha was featured on our blonde pornstars list a while back, however we overlooked how great her tits were and didn't originally include her on this list. They are brilliantly crafted, the surgeon should be proud.
Eva Angelina
Everyone loves Eva and her glasses… Not to mention her boobs, they are an awesome rack, there are a few videos floating around the internet starring her original (smaller) tits; personally we think the new tit size is a massive improvement for her and has enable her to make over a massive 500 films since her career began.
Priya Rai
The busty Indian pornstar has a lovely set of tits… She's won 2 awards since the beginning of her career, including 'Best Milf' and 'Best All Girl Group Sex Scene', she was nominated for several more, including 'Best Boobs' but unfortunately she didn't get the trophy!
Asa Akira
Asa is one of our favourite Asian pornstars, she has it all – good tits, perfect ass and a very dirty mind. Asa is one of the most active and decorated Asain pornstars in the industry, with a total of 424 files and a massive 24 awards.
Kayden Kross
Kayden is hot, there's no denying that and her fake tits made a great improvement to her appearance. Kayden has won a total of 11 awards during her career and as a fun fact she spent one day in custody for real estate fraud… We still love you Kayden, don't worry.
Monique Alexander
Monique is one of our favourite milfs, what we love about her is that she's 32 years old but looks more like a teen – her tit's are fake but they fit perfectly with her body (not like Nicole Aniston's tits which we think look terrible).
Jasmine Jae
We've only recently discovered Jasmine Jae, and so far have found it difficult to get some info on her background, this is most likely because she is new to the porn industry; or it could mean that he was just not very well known, however that's highly unlikely since she is one of the hottest British porn stars right now. She has an awesome body, her fake tits fit her perfectly and we would give our right left arm to give them a feel.
[adinserter name="Block 1″]