British pornstars are surprisingly popular, not just in Britain but worldwide. A combination of their pornstars being hot, and their English accents make them a winner in our books. Britain has been upping the ante in the porn scene over the past few years, with the introduction of Killergram and more British babes waiting to get fucked on cam everything is pointing the in right direction.
SEE ALSO: The Hottest European Pornstars
Jasmine Jae
Jasmine is new to the porn scene, but she has blown up over the past year quicker than most pornstars from the UK. She has a lovely pair of tits (fake), which compliment her slim figure perfectly. There's something about Jasmine that just keeps you wanting more – we're looking forward to her DP scene that's supposed to be on the horizon.
LouLou
We think LouLou is a seriously under-rated pornstar, she had a bad boob job at one point which led her to take some time out from porn, but she's back now and with a much better pair of tits. She was born in Guildford UK and at just 27 years old she hopefully, has a lot more in here (no pun intended).
Harmony Reigns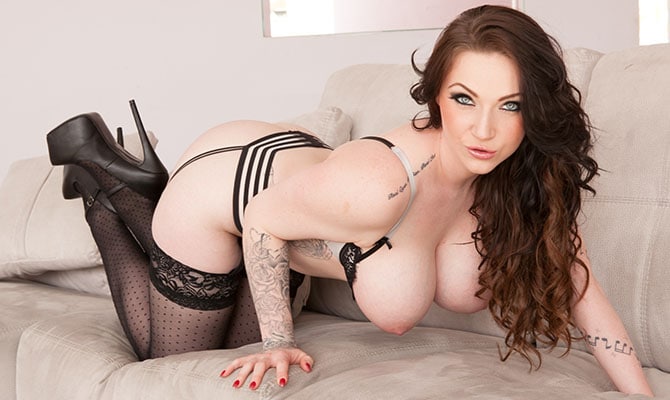 We've just found out about this girl thanks to her recently being featured on Brazzers; and we fucking love her. She has a great pair of tits and a beautiful curvy figure – plus she has some tattoos too which is always a plus for us. She's been so popular on Brazzers that chances are she'll start being featured a lot more – which is great news for us.
Emma Leigh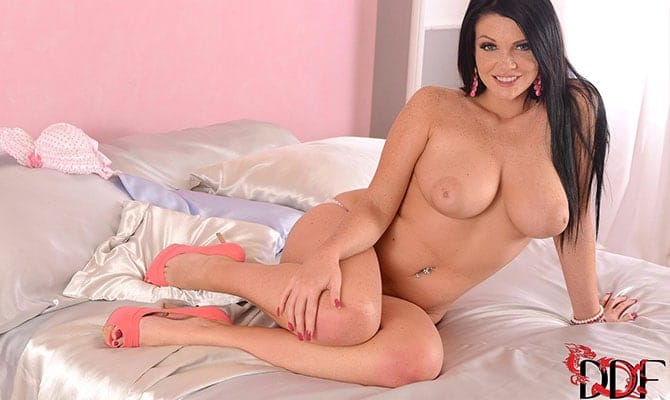 This naturally busty British babe fell of our radar when we originally wrote this list, we're not sure how it happened since she's been so active in the porn scene but all we can say is sorry. She's here now, and she's still as hot as ever so go and check this girl out – her best scenes are on the 'DDF Network'.
Sophie Dee
If you're a fan of porn, than you will most likely have heard of Sophie Dee before however, what surprises most people is that she is actually British (Welsh to be precise). She's a busty blonde/brunette/red head (her hair color changes a lot), she's got a lovely curvy figure and a great ass.
Ava Koxxx
The 29 yr old Ava from Birmingham UK has a perfect set of fake tits, they look very similar to Lisa Ann's, she has a similar figure to Lisa too. Ava has a milf look about her, she doesn't look old per se but she looks older than her actual age, this is in no way a negative we like the look.
Victoria Summers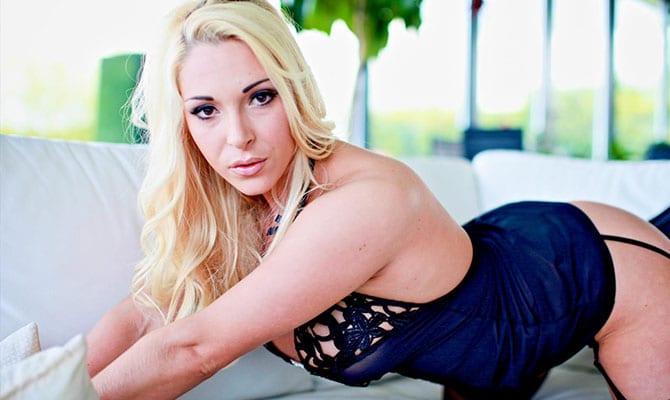 Victoria is a perfect busty blonde pornstar from Mosely, Britain. She's got the face and the body to have a successful career in porn – saying that, she already has a great porn career, she's been featured by many porn studios including big names like Killergram, DDF, and even Brazzers.
Michelle Barrett
Michelle is a busty blonde milf, she's 33, was born in Sheffield and is still active in the porn industry. She's appeared in videos for some of the top porn studios both in the UK and the US and the way she manages to maintain her figure always impresses us.
Carmel Moore
Carmel was one of the best British pornstars around until she retired from the adult industry in 2011 after being active for over 5 years. She has a mighty fine figure and a cracking set of tits. It was a shame to see her exit the porn industry but fear not, she produces over 170 videos so there's no shortage of content to fap off to.
Tanya Tate
The 35 year old from Liverpool has been very during her 6 years in the porn industry. She's managed to perform in over 100 videos and has got a pretty decent following. She's got a lovely body, even though she's 35 her body wouldn't look out of place on a teen. Unfortunately she has stopped performing in boy/girl scenes, but she's still getting some action in the lesbian scenes.
Kiki Minaj
Kiki is one of the hottest ebony pornstars in the industry right now, however she hasn't featured in many videos which means she isn't eligible to be featured in our 'hottest ebony pornstars' list. If you keep making the videos Kiki you will be on that list!
Delta White
This isn't the first time Delta has been featured on out our lists, and we doubt it will be the last. We're surprised she hasn't been more popular than she is, maybe she's got a contract with Killergram that stops her performing for some of the larger studios. If Killergram have got this in her contract, fair play, we signed up just to see Delta. Also she's still an escort so if you really want to fuck this girl you can!
Holly Wellin
The all natural Holly Wellin was born in Wigan UK, she's blonde has handful size tits and a great ass. She hasn't performed in many videos, but the ones she has performed in have been great, hopefully we'll be seeing more of Holly in the future.
[adinserter name="Block 1″]