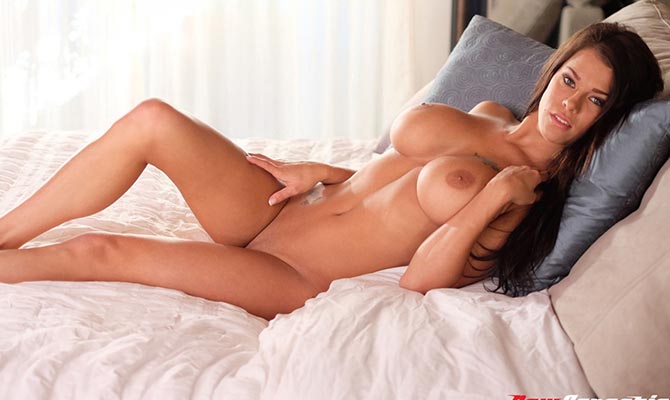 UPDATE: Due to all of the support Peta Jensen has received from fans around the world she has decided to remain in the porn industry a while longer!
The 25th of April was  a sad day for all porn lovers, that was the day Peta Jensen one of our favorite pornstars here at IFL Porn retired; and if truth be told it's not just the loss of porn lovers, we're sure the male talent are at home crying right now knowing they're never going to get the chance to fuck this beauty again.
We love Peta Jensen so much we felt we needed to pay homage to her for her great work in the porn industry, and who knows, maybe after reading this Peta will decide to stay (wishful thinking 101). Sure she was only active for a couple of years, but during that time she was hugely active and every single one of her scenes was epic.
The first time IFL saw Peta was on Brazzers in the scene 'Stay the Fuck Outta My Room' with 'Johnny Sins' – what a lucky guy. This was the scene that made us originally fall in love with this busty newcomer and since then we've been stalking her all over the internet trying to find her latest scenes.
As a tribute to Peta we're going to go through our top 5 7 favorite scenes of hers (it was just too hard to only pick 5) and for this exercise we're going to be using her scenes on Brazzers, even though she has been featured by almost all of the other porn networks we feel her best work was with Brazzers (though we haven't managed to watch her latest scene over at Blacked yet).
Just so you are aware, this list is in no particular order, it was hard enough to pick 7 let alone put them in order…
What we really like about Peta in this scene is her hair, we think it really suits her. Although even if her hair wasn't like that it would still be a fantastic scene, the sex positions are perfect and the camera work is spot on.
Peta Pledges Her Cleavage Allegiance
We're big fans of the 'Big Tits at School' series from Brazzers, who doesn't like seeing a busty woman in a sexy school girl outfit? And Peta pulls off the look better than most in this outrageously hot scene.
This was Peta Jensen's first anal scene and what a scene it was, it was a whopping 2 hours long and contained basically 4 different scenes compiled into one – which means plenty of replay value.
Peta was looking very erotic in this scene, wearing nothing more than a blindfold but that's not what made us choose this scene… It was the fact that there were two guys in it, unfortunately there was no double penetration action but seeing Peta get pleased by two guys was still great.
Fuck The Frustration Right Out Of Me
The main thing we love about this scene was it really showed off Peta's perfect body, words can't describe how perfect it actually is but this scene can.
College Midterm Stress Release
Another school girl scene makes the list, and this one is arguably better than the last – mainly because of the glasses, how sexy does this girl look in glasses? Very fucking sexy.
What done it for us in this scene was the reverse cowgirl position, we love that position because it allows us to get a great view of Peta's body and incredible tits.
Obviously every man has different tastes so you may not agree with our top 7 but let us know in the comments what your favorite scenes are!
Anyhow, just because Peta has retired from porn it's not the last we're going to see of her. She's still going to be active on social media and she will still be camming and speaking to fans on Dream Lover, she's even hinted that she may return for a scene or two at some point.